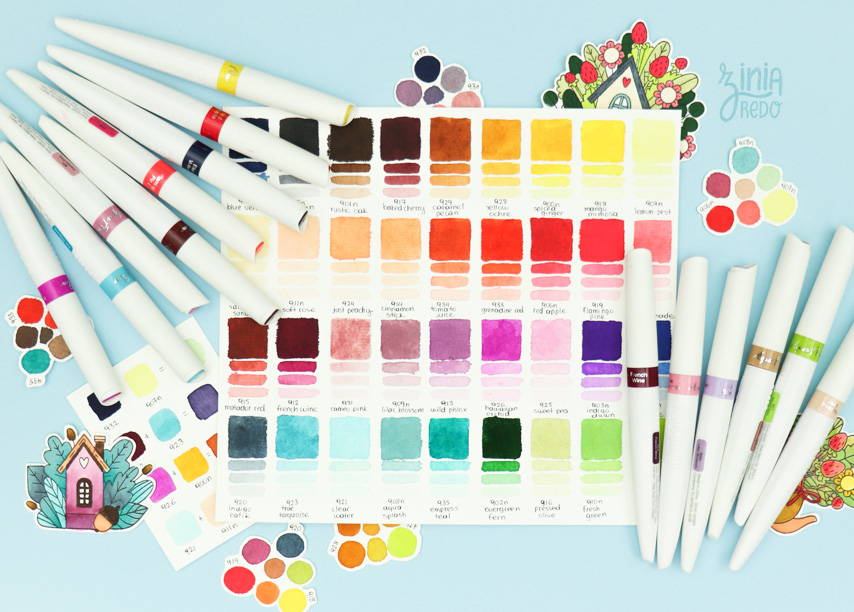 Hello everyone, my name is Zinia Redo and I'm a designer, illustrator and avid crafter from Greece.
I'm really passionate about color in all its forms so naturally, Nuvo is my top favorite product line from alliancekursy.
So today, I'd like to give you a closer look at my favorite colouring medium, Nuvo Aqua Flow Pens
---
Nuvo Aqua Flow Pens are dye-based watercolour markers that come with a flexible brush nib.
They are available in a wide range of bright colours and they make watercolouring fun and easy.
You can use them for a variety of cool techniques for mixed media effects on your projects or to colour in your favorite stamp sets.
The pen design is really beautiful and comfortable to hold.
When you first receive your Aqua Flows, they come with a yellow ring on the barrel. This protects the pen from leaking during shipping.
To get your pen started, gently unscrew the top piece and remove the ring. Then screw the piece back on till you feel a light click (there shouldn't be any gap between the main barrel and the top piece).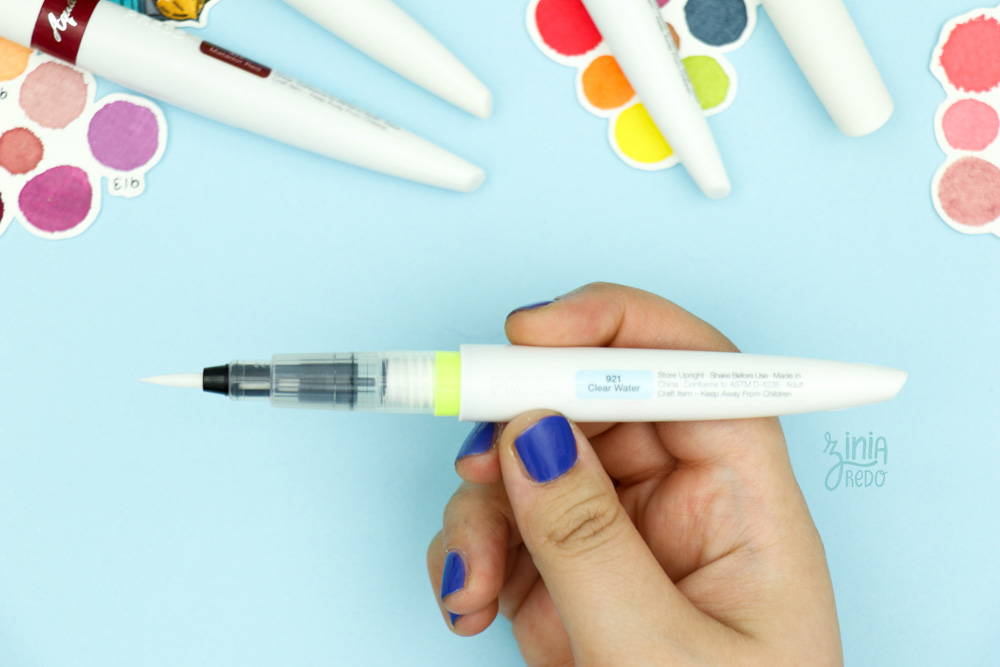 To help the ink flow to the nib, lightly press the barrel. A great tip is to wet the brush nib so that the ink spreads faster on the bristles.
Continue lightly pressing and scribbling your pen on a scrap piece of paper till the ink starts flowing. Make sure not to press too hard.
Be patient during this process and allow the ink to spread on its own so that you don't overflood the top piece and make your pen release too much ink or leak.
---
Colour Range and Swatches
The Aqua Flow pens come in a great selection of colours. Most of them are quite vibrant when you apply them directly to paper but if you add a bit of water, you can get a huge range of shades.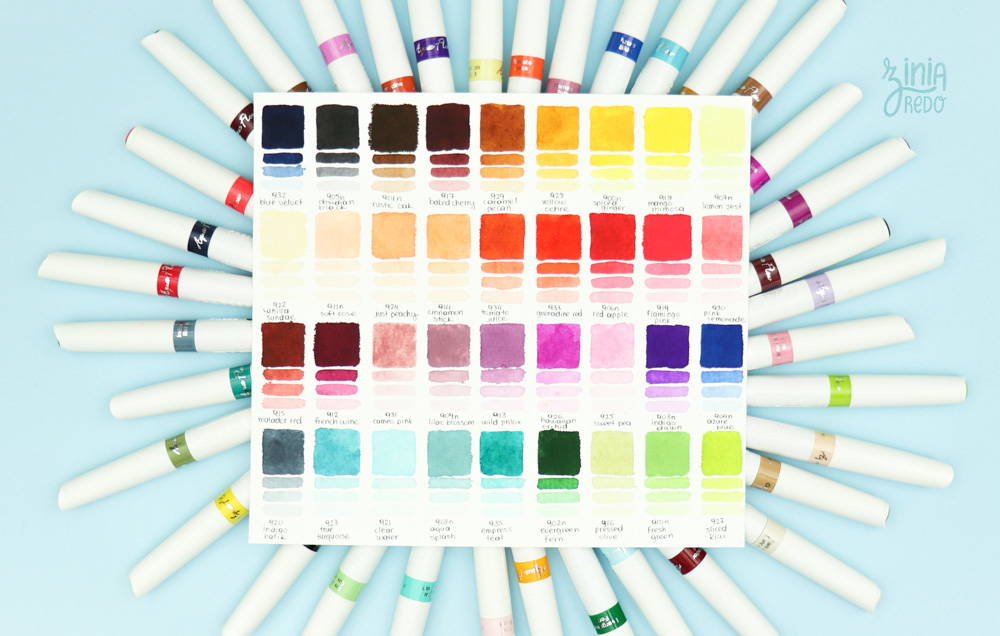 The pens are available in packs of three and all sets are perfectly curated into beautiful colour palettes.
Even though you get three markers in each pack, you can mix them together to create even more shades. You can check some simple mixing charts for all available sets here.
Keep in mind that these are just a couple of shades you can mix but if you change the colour ratio or add a bit of water to dilute the colours, the possibilities are really endless.
Download your own Aqua Flow colour chart here.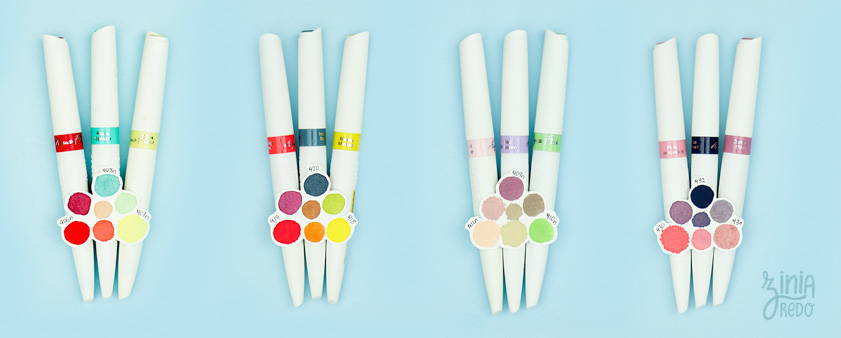 If you are just starting your collection Summer Holiday and/or Surprise Party are some of your best options as the colour selection resembles the primary colours and you can mix all types of colours with them.
When it comes to using these pens, the sky is the limit.
I'd like to share with you some of my favorite colouring ways using Aqua Flow Pens but you can use the same techniques for freehand painting or other mixed media effects.
---
5 Freehand Painting Techniques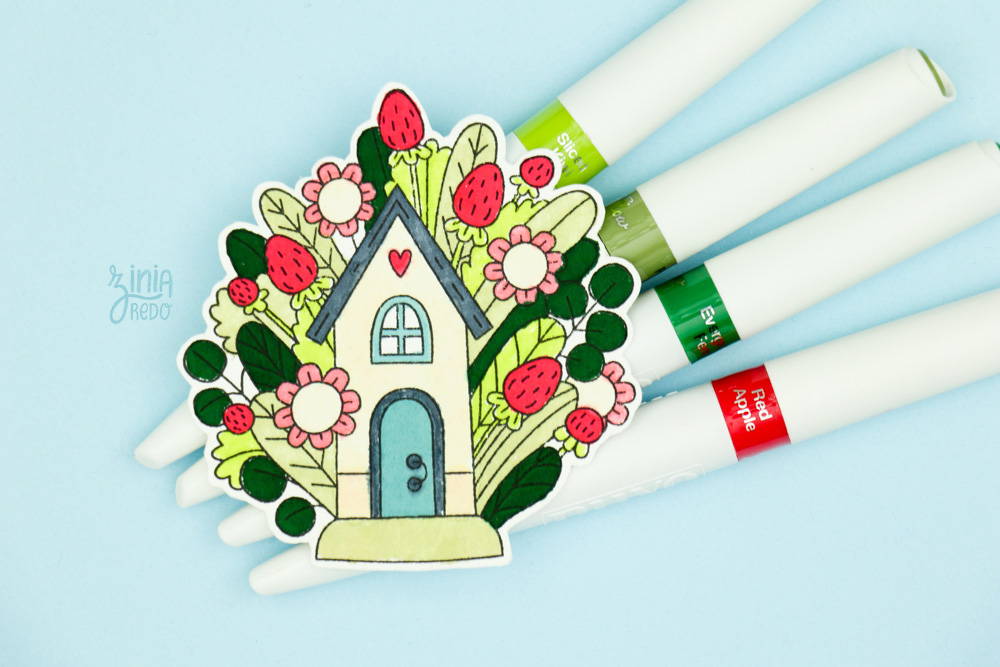 1 - Solid colour application
This is the most simple way to use these pens but the result is still very beautiful. Just apply a flat layer of colour directly on paper. Picking an eye-catching colour palette can really elevate your project while using this technique.
---
One of the easiest ways to create gradients with the Aqua Flow pens is to do tip-to-tip blending. You basically want to pick two colours and then touch their tips to transfer a little bit of colour to each marker. You want to use the lightest colour marker to apply the ink for a smoother result.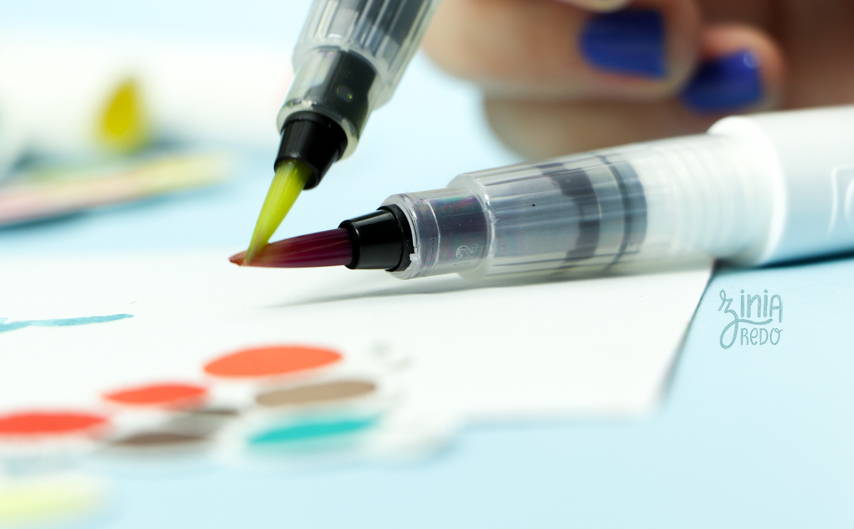 Don't be afraid of contaminating your markers. There's a valve that won't allow ink to go back to the barrel so your marker is completely safe. If your nib gets stained, just scribble off the extra colour or lightly wipe it with a paper towel.
---
When I first started colouring this was the easiest way for me to add shadows to an image. First, you want to pick a colour for the shadows. Most people just use a darker shade of colour for the shadows but your image will really come to life if you chose a more interesting colour. A great and versatile choice would be a light purple. Lilac Blossom is my go-to colour when it comes to shadows. Just scribble on the areas that should be shaded and then go over with your regular colours. The shadow colour underneath will mix with the new colours and soften up a bit to create beautiful shading.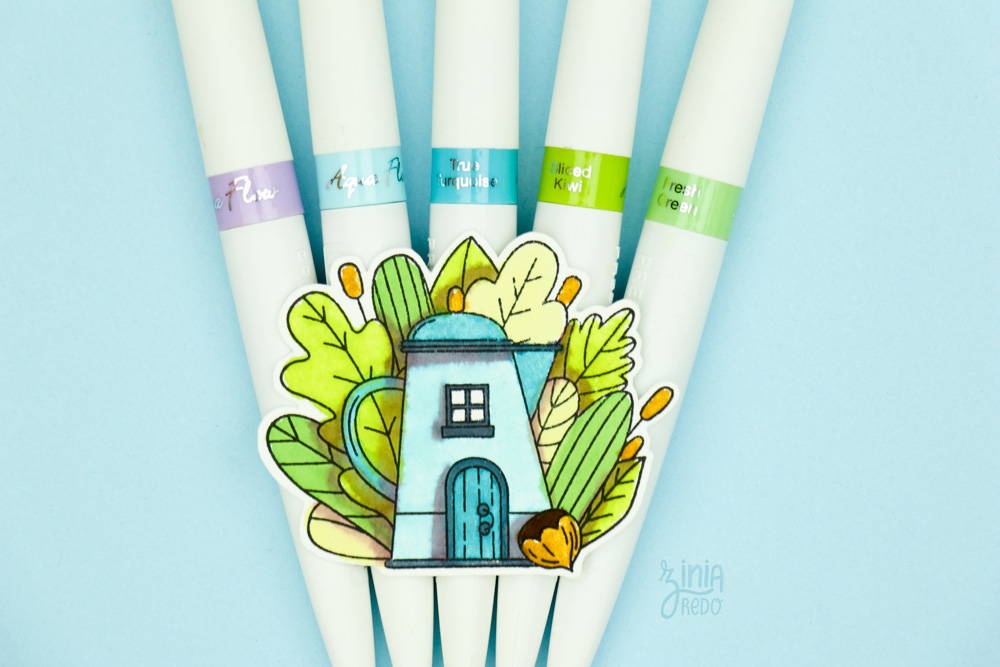 ---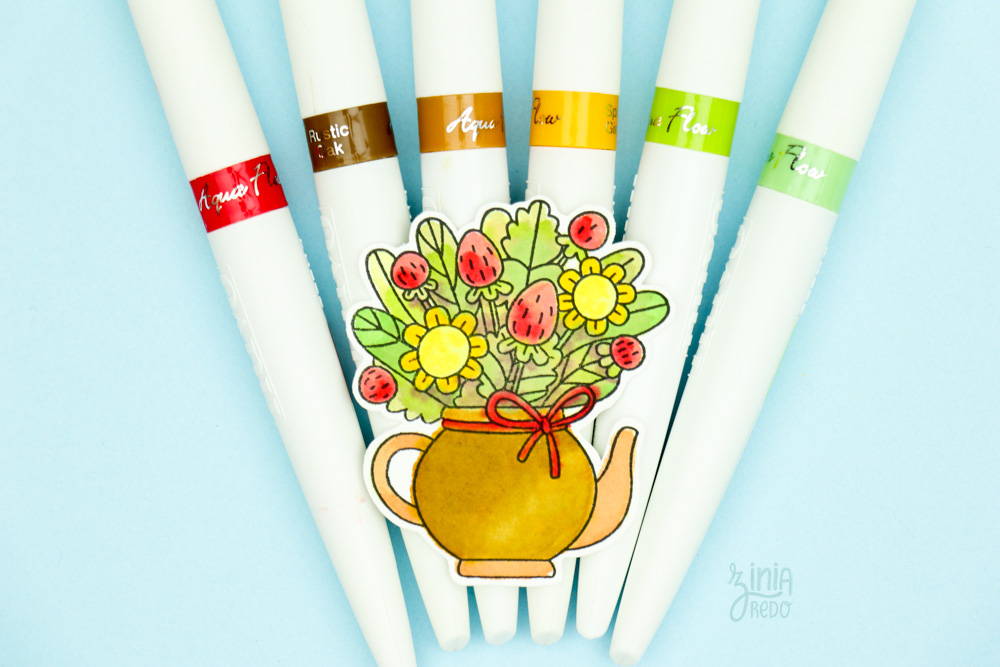 A similar technique is to layer colours in order to create shadows and highlights. Start with the lightest shade and cover the whole area you want to colour. Let it dry and continue adding colours using gradually darker and more vibrant shades. If you want a smoother result you can add the darker shades before the previous layer is dry so that the edges of the colour will blend and soften.
---
5 - Waterbrush Application
Last but not least, you can apply colour with the help of a waterbrush. This will help you create lighter gradients and add more contrast to your shading. I really love using my Glass Media Mat when I want to apply my markers in this way. You can scribble some colour on the mat (or any other non-stick surface) and then pick the colour with a loaded waterbrush. If you want more control, you can also just use a paintbrush and add a bit of water as you apply the colour.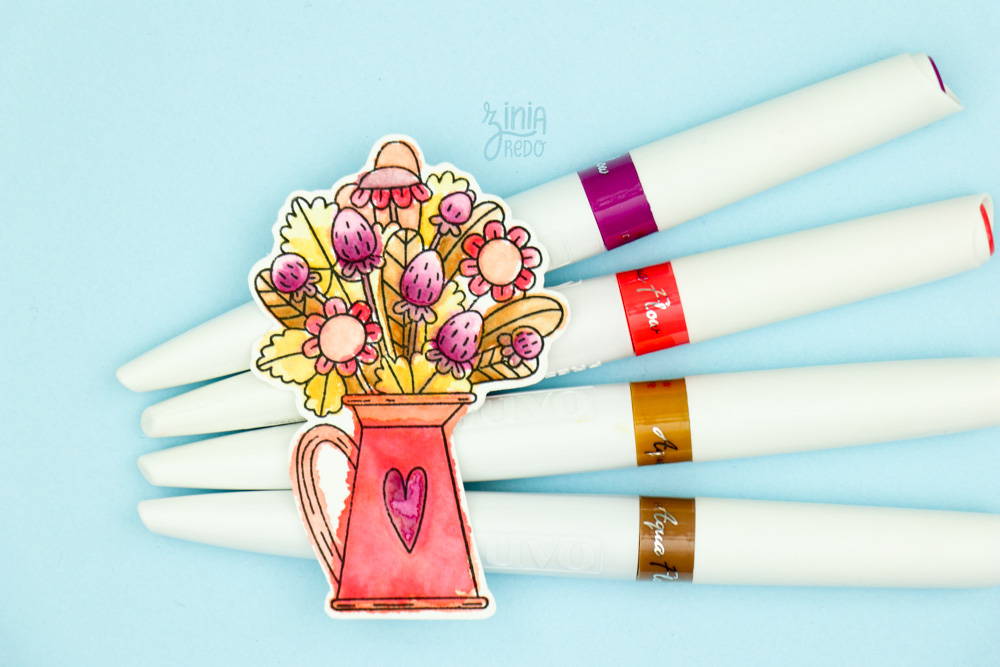 ---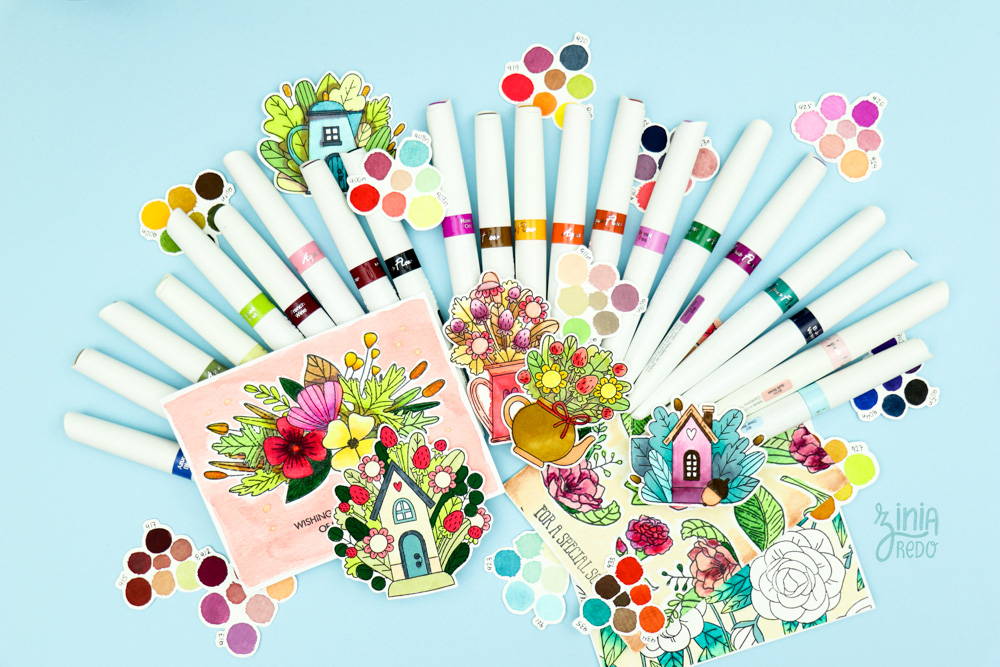 These were just a few ways you can use these amazing pens.
You can find more ideas and inspiration on the Tonic Youtube channel here with project instructions from start to finish!
Feel free to share with us your favorite Aqua Flow colours and techniques in the comments.
Thank you for stopping by!
Zinia.
---
Looking for more inspiration?