Hello everybody! It's Maria Willis here and I am very excited to be giving you a close up look at the new Crackle Mousses.
These mousses are the third in the Nuvo Mousse range. First, we had Embellishment Mousse, then Expanding Mousse and now we have Crackle Mousse!
This mousse is solid when it dries, it also shrinks and splits apart creating a gorgeous, crackle finish!
Check out the mousse in action by watching this video
This mousse has a creamy, whipped texture that is light and easy to spread.
It also has an iridescent sheen that is absolutely stunning.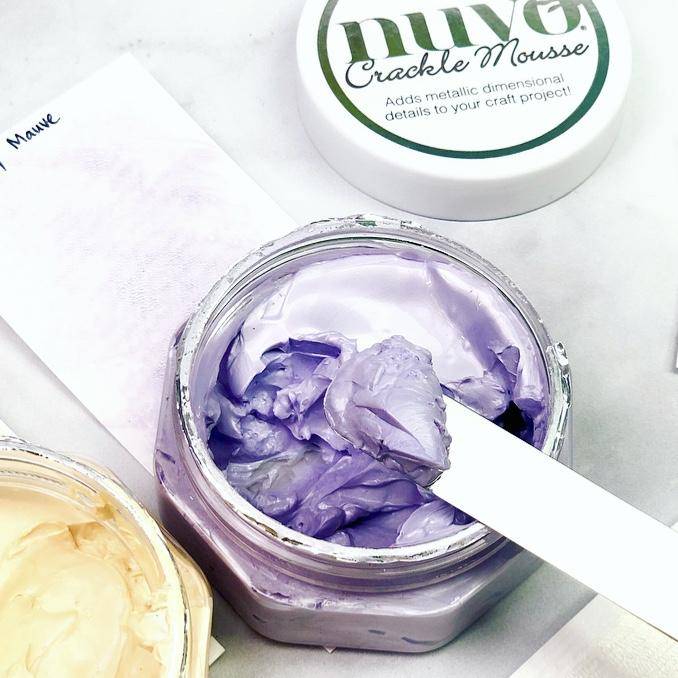 ---
The Crackle Mousse comes in eight different colors ranging from soft and subtle colors to bold and striking color choices.
Misty Mauve

Ivory Coat

Pink Gin

Russian White

Chameleon Green

Celeste Blue

Egyptian Gold

Russian White

Wrought Iron.
When you apply a thick layer of the Crackle Mousse it yields much larger cracks and instead of looking like fairy wings, it looks like the cracked dessert (see video).
Here's a close up look at some of the softer colors and the fine crackled texture you can achieve when you apply a thin layer of the product.
---
Applying Nuvo Crackle Mousse 
Crackle Mousse can be applied in a variety of ways.
Apply the crackle mousses directly to paper or different surfaces.

Brushed on using a dry paintbrush.

Apply with a spatula or a

 palette knife.
To create patterns apply through stencils.
No matter which color you choose to use on your cards or mixed media projects it is sure to make a visual impact!
---
 Let's see some card samples
Thanks so much for stopping by the blog today.
I hope you are as excited about these Crackle Mousses as I am!
If you have any questions about these new Crackle Mousses please leave a question in the comments and I will answer your questions as soon as possible.
Thank you and have an awesome day!
Maria Willis
---