Nuvo Drops add dimensional details to your projects.
They come in a little squeeze bottle with a precision tip, so you can fill stamped images, do some creative free-hand art, or make little drops that dry and look like enamel dots.
I'll be sharing several fun techniques with these drops today.
---
---
There are currently seven types of Nuvo drops.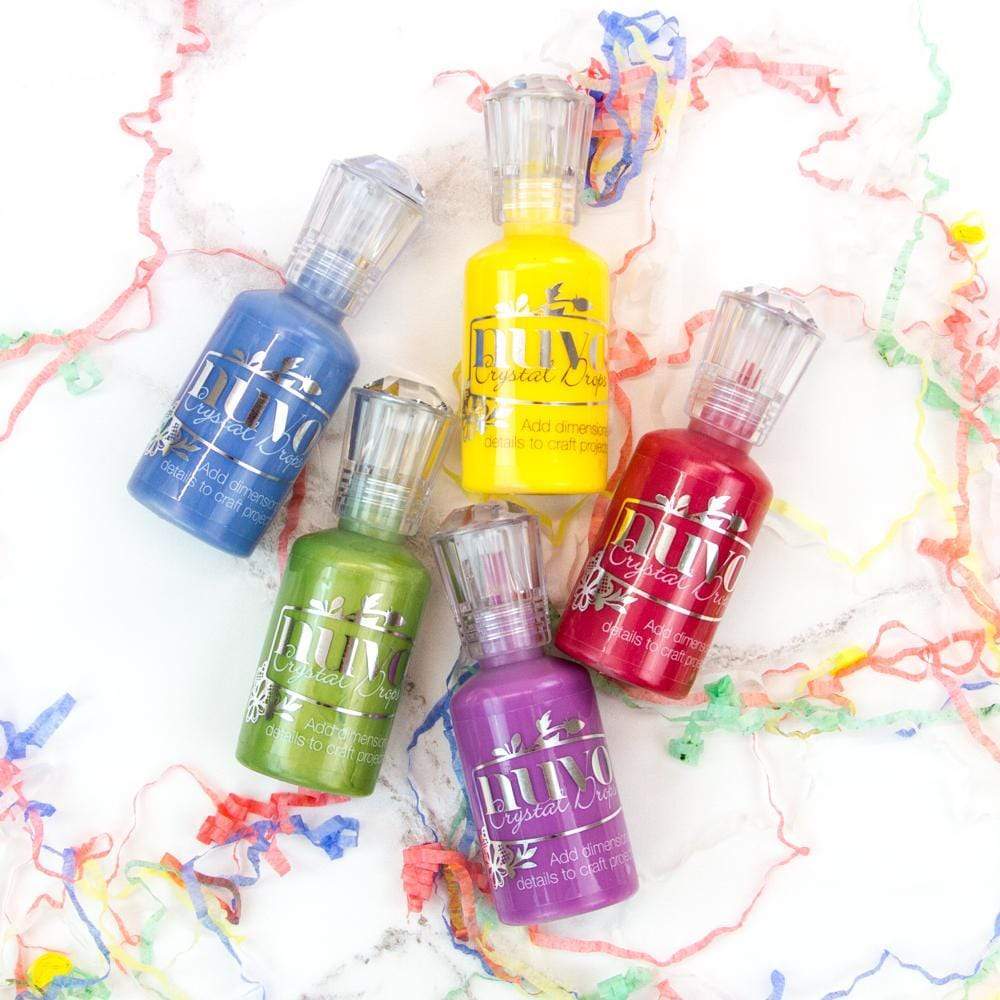 These are your bright, opaque drops. There are 48 colours, and have a glossy finish. Some even have a metallic shine to them.
These are drops that dry with a translucent finish, so you can somewhat see through them. They are tinted in 12 different colours, and also dry shiny.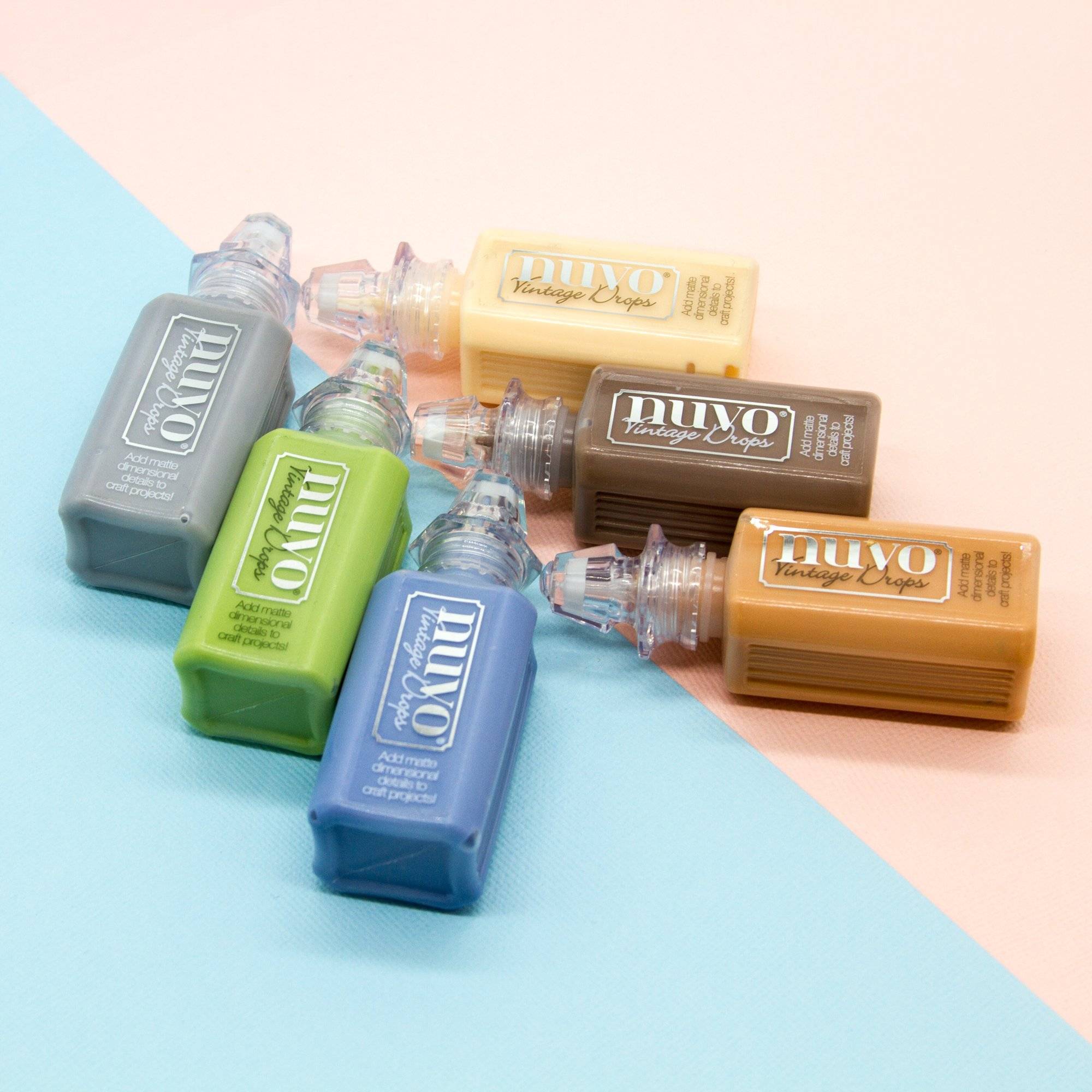 These drops dry matte, and the 17 different colours offered are more on the vintage side.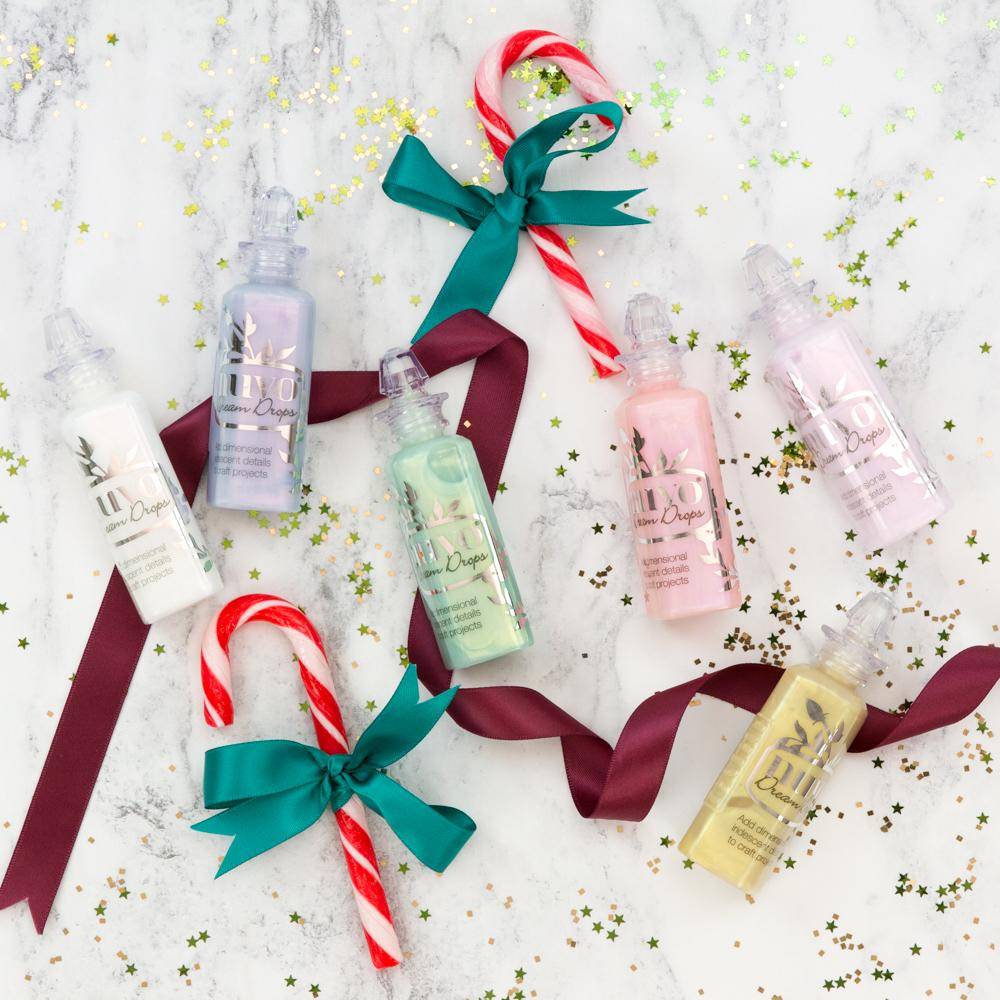 These drops are simply gorgeous. The 7 colours offered are light colors that dry with a pearlescent shine.
---
I shared in my video above how you can swatch out your drop collection.
If you go to the Tonic website here, under downloads, you will find an option marked "Colour Charts".
Click on this and you can choose from the pre-made charts from Tonic.
Simply print them out onto lightweight cardstock, and swatch your drops!
It is also a great way to practice making round drops.
---
Adding Nuvo Drops to Stamped Images
Adding Nuvo drops over stamped images can help bring those images to life!
On this colourful unicorn card, I added some clear drops over the balloons to make them glossy.
I also used some blue Jewel drops over the blue balloon. Since Jewel drops are translucent, they add a tint of colour but you can still see the coloured image behind the drops.
You can also embellish your projects by adding drops to floral arrangements, and wreaths.
With so many colours to choose from, any theme or palette can be matched!
---
Did you know you can use these drops with stencils? This is a great way to stretch these drops to be more versatile! Here, I added some Glitter Drops over a Tonic snowflake stencil.
Then, I used a Nuvo Media Spatula to spread the drops over the stencil. After lifting the stencil, you are left with glittery snowflakes that makes a perfect winter background! Try this with any of your stencils!
TIP
If stenciling over ink, try a hybrid ink like Nuvo's. Hybrid inks will be permanent when dry, so they will not leak ink into your drops to discolour them.
---
Drying time on the drops will vary, depending on how large you make your drops. I recommend that you leave your drops overnight to give them adequate time to dry.
If you stack cards together before they are completely hardened, they could flatten.
To avoid waiting for drops to dry, you could pre-make them! Grab a piece of acetate, wax paper, or even just your Tonic Glass Mat.
Drop out as many colours you want, and let them dry. Then, to remove, gently bend your sheet of drops and pop off one or two, and glue them down onto your project. They become a sheet of pre-made enamel dots!
You can also use these drops to make shapes.
Here, I made several heart-shaped dots by adding two small dots to my sheet, and then pulling those dots down and together with my craft pick.
These are more difficult to remove from the acetate sheet without them breaking, so making shapes might be something to do right onto your projects. Practice on scrap paper first, though!
---
Before I go, I wanted to leave you with just one last technique that is fun to try with these drops.
You can cut out a background die like Tonic's FLORAL BLOOMS die, adhere it down onto a piece of cardstock, and fill in the areas with drops.
I used Glow Drops here for a bright design, and the best part is this background glows so bright in the dark!
That's all for today.
I hope you enjoy these techniques and the video.
Happy Crafting
Marie Nicole.