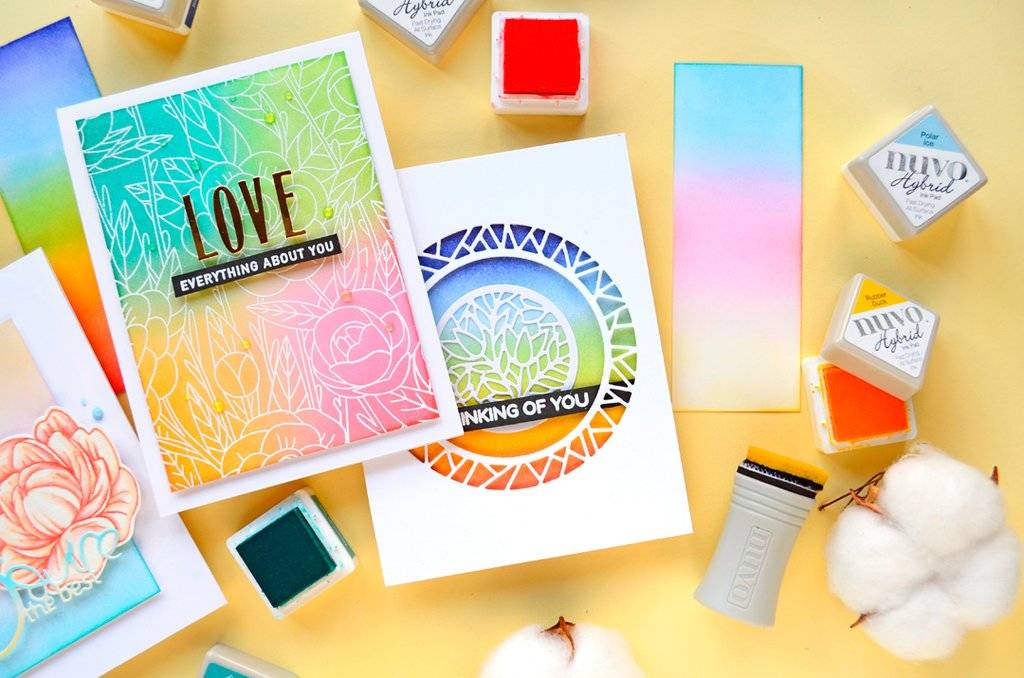 Hello everyone! It's Galina Filippenko here with a special post about Nuvo Hybrid Inks blending techniques.
We will start with some basic blending tips and will move to other creative and fun techniques.
If you missed my first post about Nuvo Hybrid Inks, make sure to have a look HERE. There you can find detailed info about Nuvo Hybrid Inks and colour swatches as well.
---
What do you need to start?
Tools
Paper
For the best result use smooth card stock or paper.
Optional Tools
Masking paper or low tack tape.
Low tack tape or washi tape can be used to create masks as well.
Tim Holtz - Glass Media Mat - 1914e as it is easy to clean and you can reuse any ink you apply on it.
---
Nuvo Hybrid inks are available in 24 different colours and you can mix them all with each other!
Tap the dauber a couple of times on the ink pad.
Tap extra ink from the dauber on a piece of scrap paper or on the glass mat.
Apply the ink on the paper in circular motion.
Avoid applying pressure on the dauber.
Tip
Always start with light pressure and work from light to dark colours.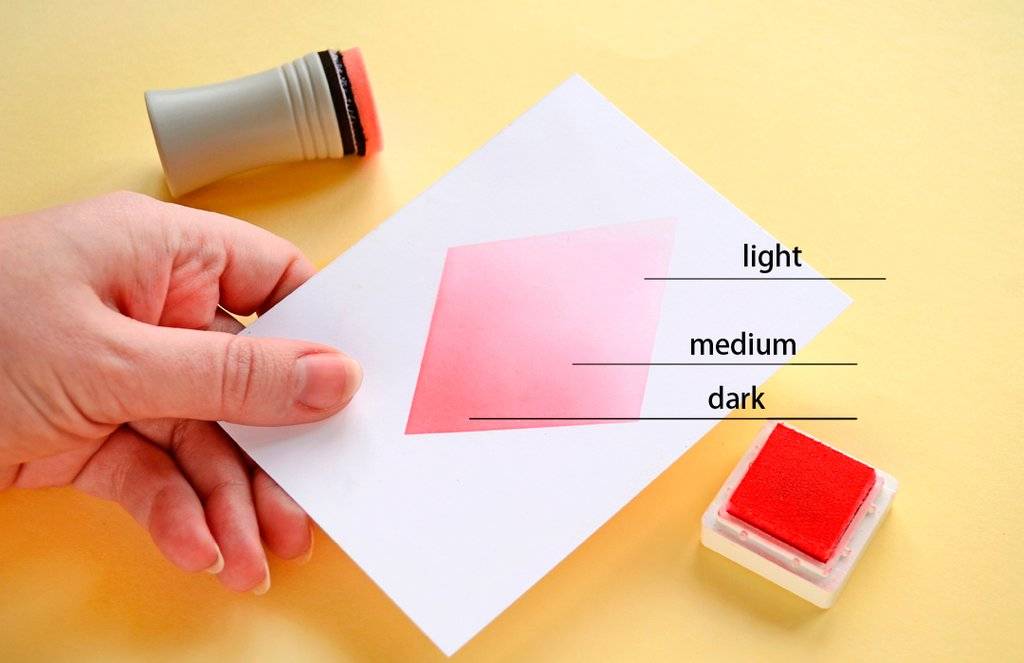 With a second and third layer add more ink in the same way.
Tip. If you want to create an ombre effect with one colour start by adding ink from the bottom to the top of your panel.
With each layer, you can control how intense your background should be.
You can divide the area into three parts: light colour, medium colour and dark colour.
Light Area - one ink layer
Medium Area - two ink layers
Dark Area - three and more ink layers.
---
Ink blending combinations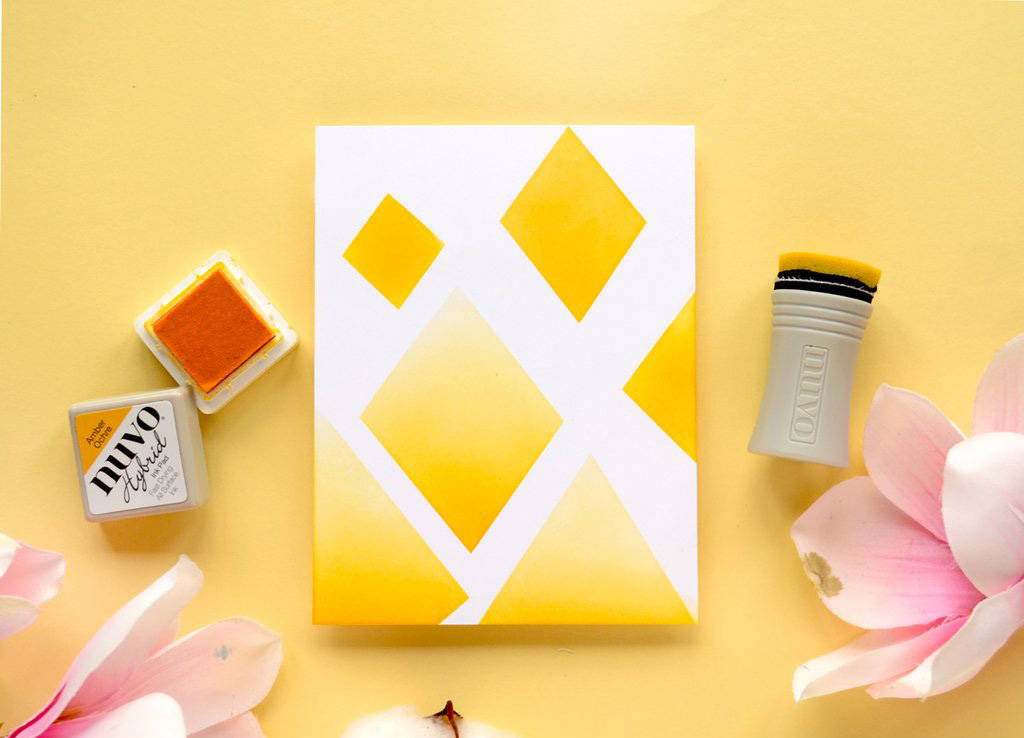 One Ink Colour Gradient
You can apply a solid coat of ink or you can create monochromatic gradients.
Two Ink Colours Blending
To blend two different Nuvo Hybrid ink colours start with the lightest shade first.
Create a gradient towards the half of the blending area.
Next, apply a second colour.
Overlapping it a bit over the first colour and mixing both colours together.
Three or more ink colours blending
To blend three or more colours Nuvo Hybrid Ink colours, I always start by applying the medium colour first.
On my samples above, the medium colour is Amber Ochre.
So I first applied this ink colour and then I applied pink on the top and bottom.
It's easier to mix a light colour with another light colour and a dark colour with another dark colour.
For example, it will be easier to blend a Siren Blue (dark blue colour) with a Rich Rosewood (dark red colour) colour than blending Siren Blue with Polar Ice (very light blue colour).
It's not impossible to blend dark and light colours ( check out my rainbow card at the bottom of this post to see how I do it)
That's why I want to share with you my favourite colour combos, with colours perfect to blend.
---
Panama Rose + Rubber Duck
My favorite ink blending combo is Panama Rose and Rubber Duck (or Amber Ochre).
Rubber Duck + Pink Sherbet + Mint Macaroon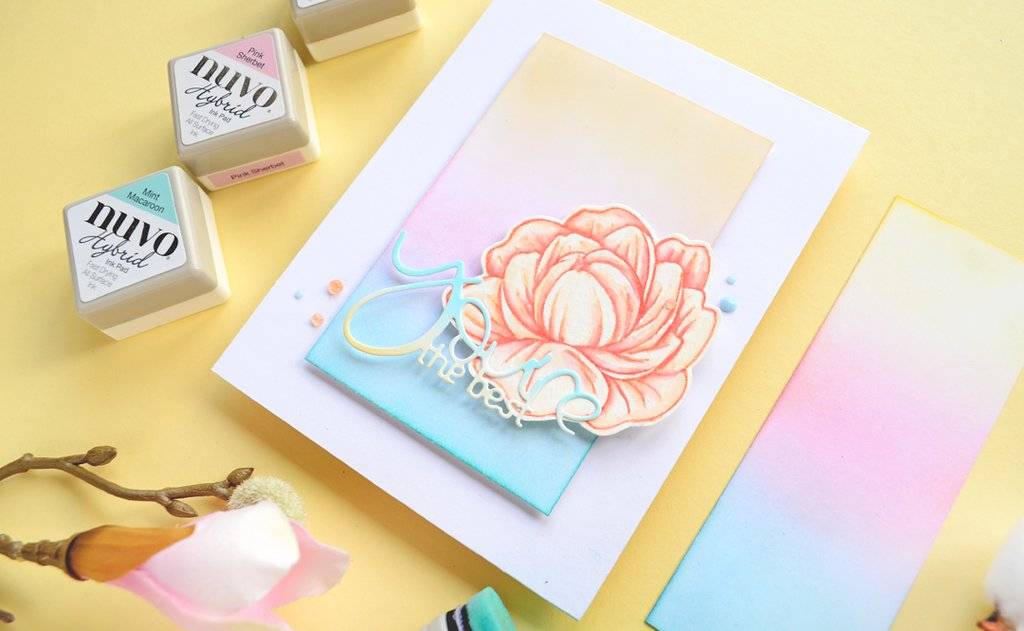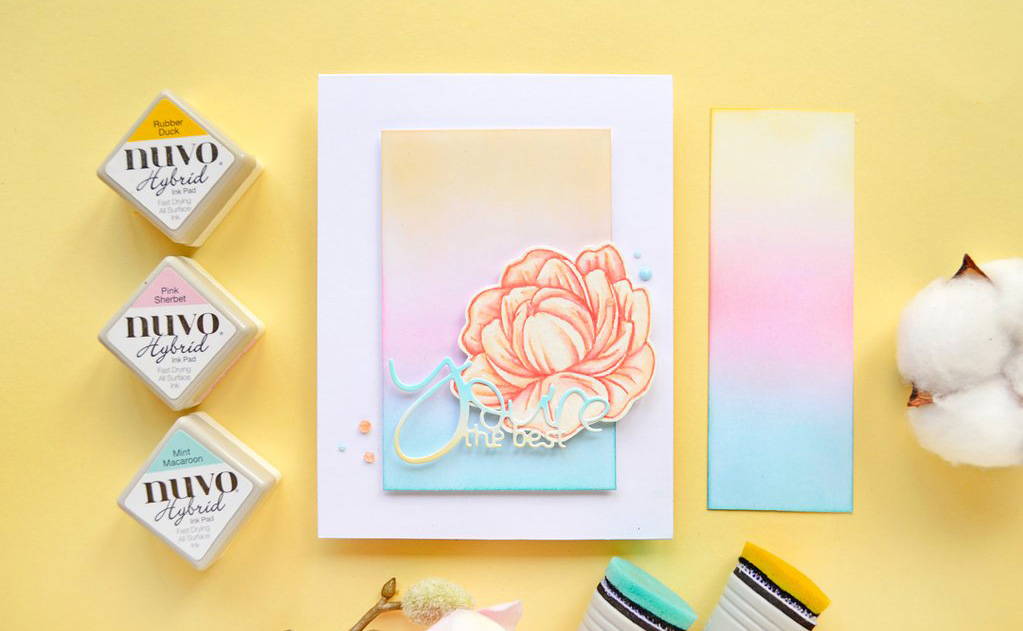 My second favorite combo is delightful combinations of subtle shades : Rubber Duck, Pink Sherbet and Mint Macaroon.
I used this colour combo to create a small background panel .
I also used yellow and blue ink to colour the die-cut sentiment.
I stamped the flower from Peony Bloom stamp set using a light pink ink and coloured it with Nuvo Aqua Flow pens.
For my next card, I created a big ink blended panel and I used it as a card background.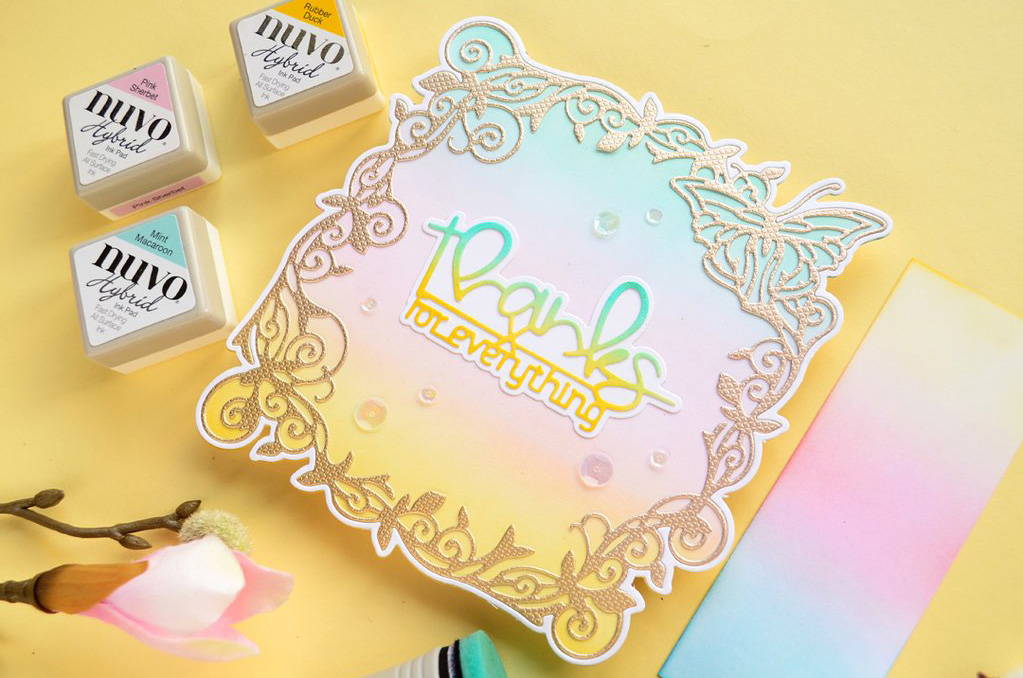 I cut out a gold frame with butterflies using You're The Best Floral Frame Die Set. For the frame I used a beautiful textured cardstock - Craft Perfect - Speciality Card - Luxury Embossed - Golden Mosaic - A4(5/PK) - 230gsm - 9826e
Moroccan Teal + Lime Burst+ Sliced Strawberry + Carrot Stick.
My third favourite colour combo is Moroccan Teal, Lime Burst, Sliced Strawberry and Carrot Stick.
I applied inks over the four corners of the panel and I heat embossed a floral pattern with Nuvi Fine Detail Glacier White embossing powder.
I cut out a sentiment using alliancekursy - Essentials - 'Miehle' Upper Case Simple Type - 2814E from gold Mirror Cardstock.
I embellished the card with matching colours of Nuvo drops.
Nuvo Rainbow Ink Blending
If we are talking about blending more than 3 colours on the panel I can't hide my all-time favourite colour combo - Rainbow!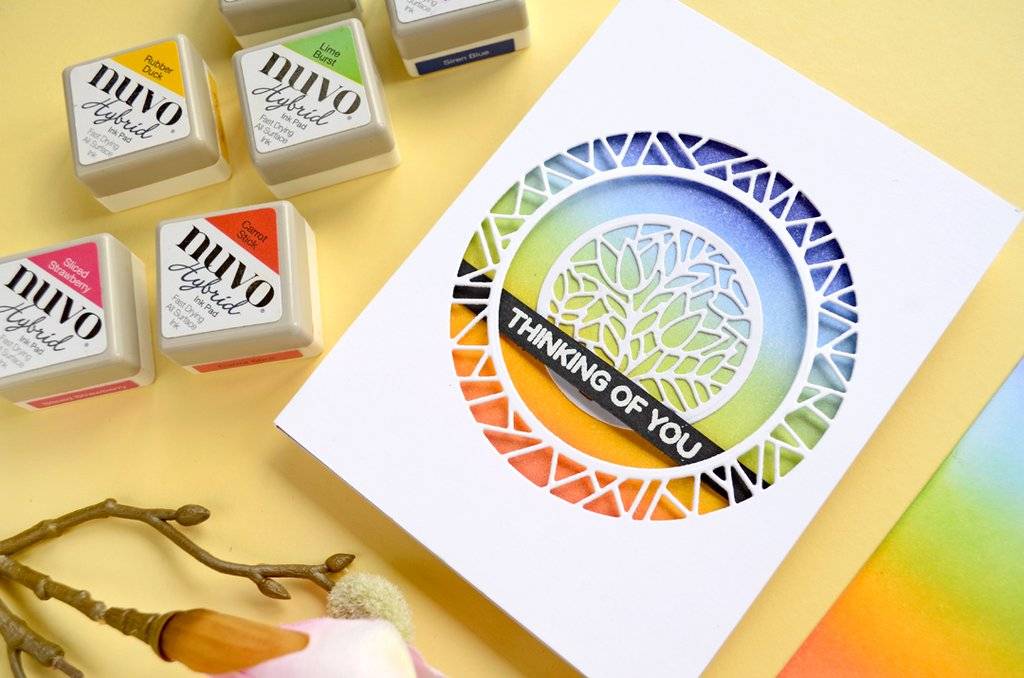 Rainbow colour combo: Siren Blue, Polar Ice, Lime Burst, Rubber Duck, Carrot Stick, Sliced Strawberry.
I created a rainbow colour panel in the same way as 3 colour background.
I started from the centre of the panel with a green colour.
Then I add colour by colour on the top and bottom of my panel.
I cut out a round window in a white card panel using alliancekursy - Essentials - Tulip Terrace Layering Floral Frame - 3053E.
I heat embossed a sentiment on black cardstock with white embossing powder.
---
Trim a white card panel for this project.
Add an adhesive sheet on the back.
Apply 3 different colours of Nuvo inks ( Panama Rose, Amber Ochre, Moroccan Teal)
Cut out using dies. I used Orchid Meadow Mosaic Die Set.
Remove the main die cut and attach it on the card base.
Leave the negative die cuts on the protective sheet.
Rotate the protective sheet and inlay all negative die cuts on the card base.
Cut out a sentiment from glitter cardstock.
Foam mount it on the card.
Embellish your card with a transparent glitter Nuvo Drops.
Dimmed Blended Background
Apply Panama Rose and Amber Ochre ink on a white card panel.
Stamp images with light grey Nuvo ink.
Add colours with your favourite medium or with inks.
I decided to use inks for colouring, it's quite a tricky process, but I want to get a perfect colour match between my balloons and the card panel.
Stamp the sentiment with black Nuvo Ink.
Embellish the card with Nuvo drops.
To be able to add colour with Hybrid ink tap the ink pad on the acrylic block and add a little bit of water or a small drop of a Stamp Cleaning Solution.
---
So here is a picture of all the projects I'm sharing with you today.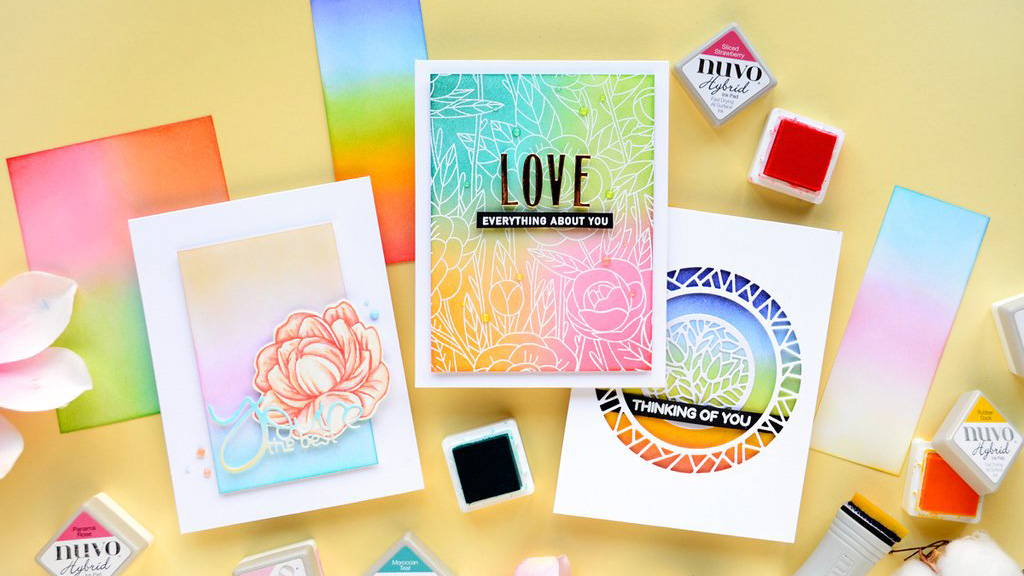 Thanks for joining me today!
See you on the next post!
Galina
---