I'm so glad you've decided to check out alliancekursy Shimmer Powders. I'm Justine and I don't have many skills in painting or watercolouring so that Shimmer Powders are the best option on the market for me.
It is so easy to make stunning, vibrant backgrounds that look really complex in just a few minutes using these powders.
So It's all about experimenting to get the look just right for your preference. Some things you can consider trying:
Add powder to watercolour cardstock and spray with water

Add water to the watercolour cardstock and tip the powders onto the wet surface

Mix both suggestion 1 & 2 for a varied result.

Lay the powder on a non porous surface (Tonic Glass Mat or Acrylic Block), spritz with water and use like you would use paint.

Experiment with a small amount of powder and work your way up. A little powder goes a long way!
---
I started off by making swatches.
I cut small pieces of watercolour cardstock and added water to them.
I tipped one colour per piece of cardstock to see what the true colour is.
The bottle label doesn't show the shine to them so I think it's important to really see what they look like on paper before actually starting. 
The only thing to keep in mind with shimmer powders is the colour wheel. You don't really want to mix colours that don't mix well together (like yellow and purple). Aside from that, just give it a go and see what happens!
---
Applying the powders on wet Cardstock
For this background, I worked on wet cardstock.

I chose three colours I work with very often.

I started with Solar Flare and Cherry Bomb.

I added small amounts of Violet Brocade as well, Being careful to not put too much of it near the yellow powder.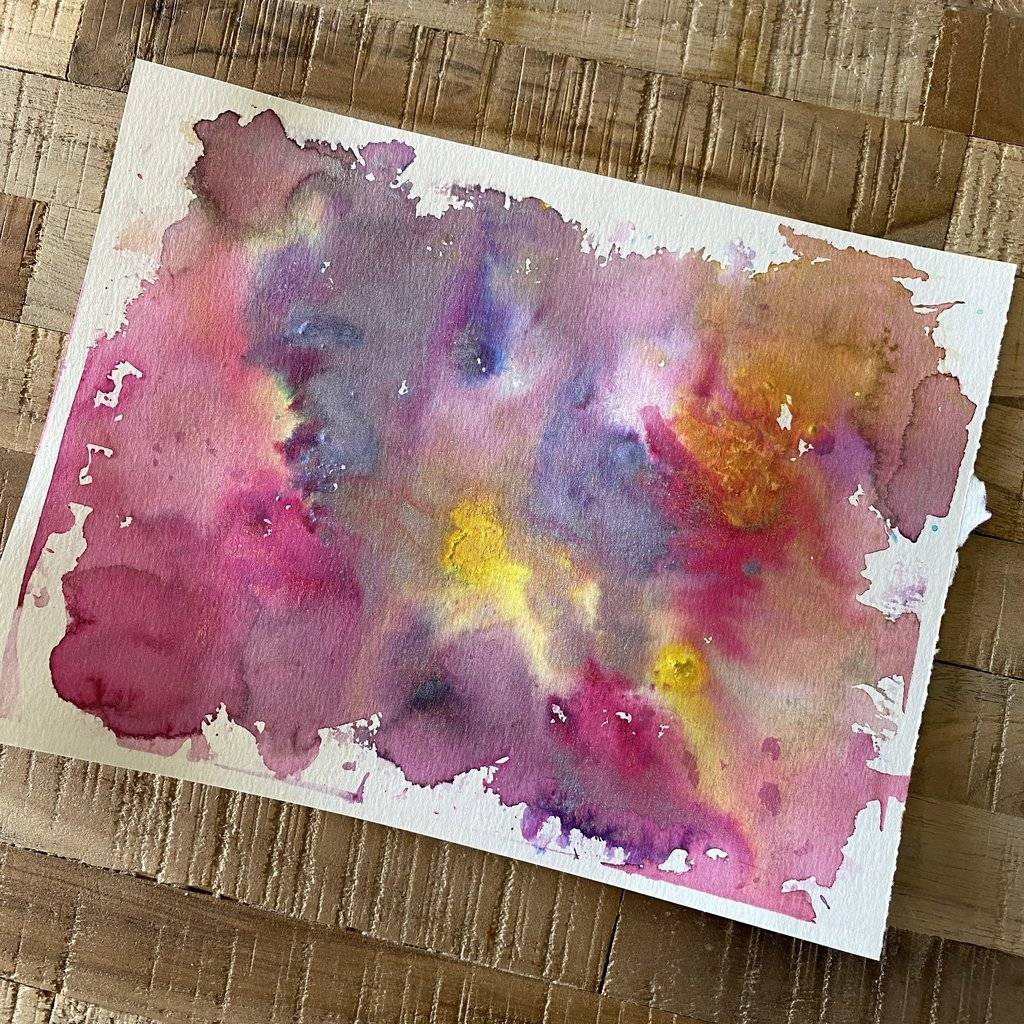 As I noticed the yellow and purple mixing, I scooped up the colour with kitchen roll. I love that about watercolours, you can just mop up colour with kitchen roll and start again.
I works on 6x8 panels of cardstock so I was also able to cut down a card base of 4 x 5.25 inches and use the leftovers to die cut the For You sentiment.
I worked this way on all my cards.
---
Applying the powders on dry cardstock
For my second card, I tried the background two ways.
For the card above I did the dry cardstock, powder and then spray technique and I used the same colours and applied them to wet cardstock in the picture below.
Both gave off different looks as seen in the video, prefer working on wet cardstock best.
In the first picture, dry on dry technique. In the second picture dry powder on wet cardstock.
For this combination, I used Atlantis Burst (a must-have colour!), Blue Blitz and Solar Flare. What was interesting when using Solar Flare with these colours it gave them more of a gold tone. Very pretty.
---
Layered Shimmer Powder Galaxy
For my last card of the bunch, I wanted to recreate a galaxy.
I used Solar Flare, Cherry Bomb, Atlantis Burst, Violet Brocade, Meteorite, Lunar Rocket and Storm Cloud.
I ended up doing two layers (drying in between layers) to build up the darkness and vibrancy.
I would recommend drying your second layer before splattering stars or else it will just absorb into the background.
Have fun with your shimmer powders!
I encourage you to experiment and play around and just have fun.
You'll get a lot of use out of those little bottles so don't be afraid to practice and experiment.
Also remember that watercolour cardstocks are all different so if you aren't happy with your results, try a different type of cardstock.
Happy Crafting!
Justine
---