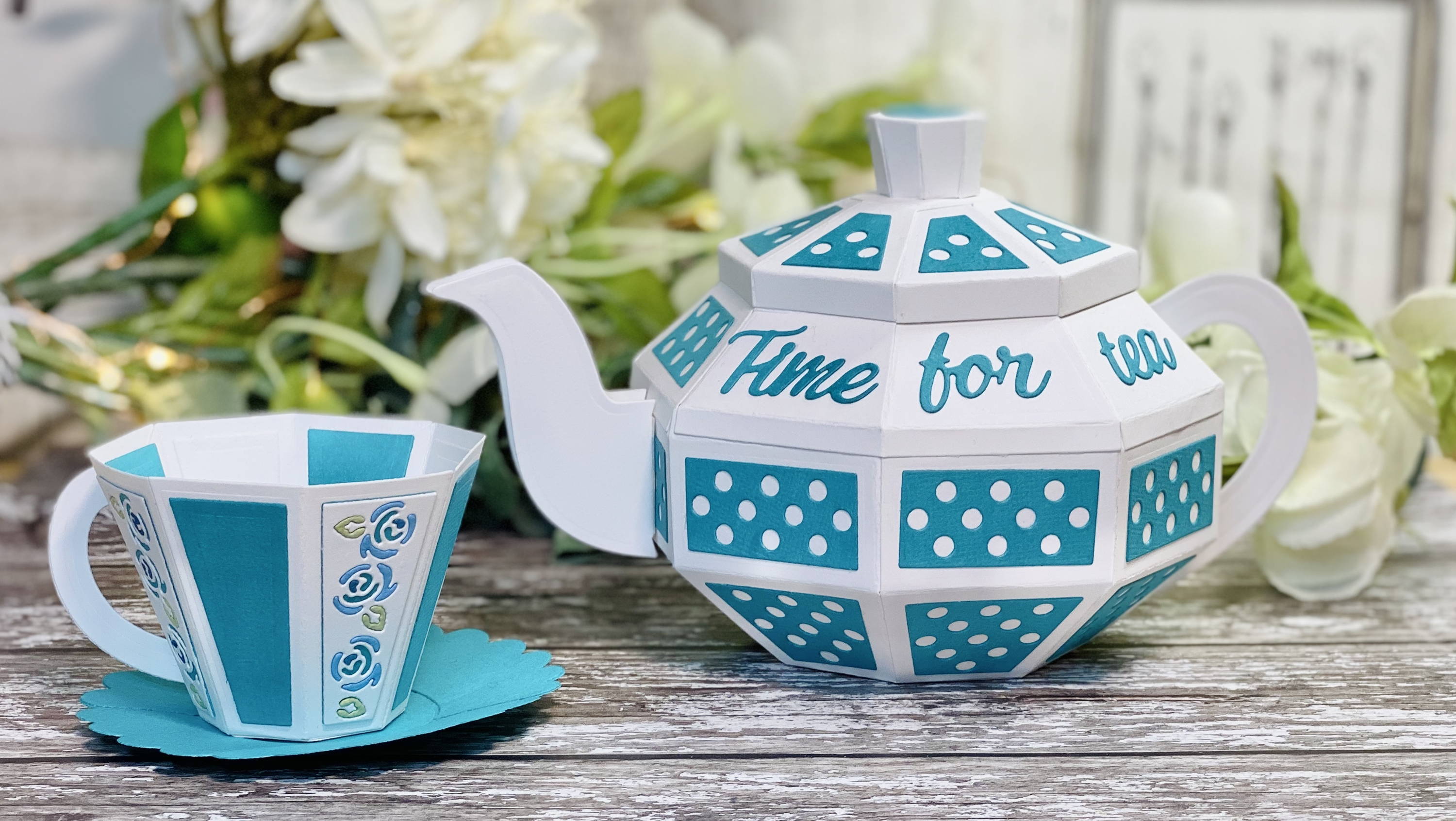 Time For Tea is a fun and quirky 3D die set. It comes with 44 individual dies for creating teapots, teacups, and saucers.
---
Adhesive – the best adhesive to use is wet PVA; red liner tape is NOT permanent. If you want to work quickly, adhere red liner tape then add a few drops of PVA.
Base Card – cardstock between 240gsm and 300gsm is best for the base of 3D projects. Today I've used Craft Perfect 240sgm Smooth Card.
Scoring – to avoid cracking, use a bone folder to burnish all score lines.
Practice – initially, put together a base project with cheap cardstock. This ensures you don't ruin your best materials with mistakes you may make on the first go.
Decoration – Some 3D projects are easier to decorate before assembly and some after. My preference for this set is to decorate AFTER the base has been assembled. The panels are easy to attach. This will also save you a lot of time and materials if something goes wrong with your base assembly.
Paper Piecing – takes a lot of time but it's worth the effort. I use scraps of paper wherever possible.
Handle/Spout – leave until after you've decorated your teacup as they must go on top of your decorated panels.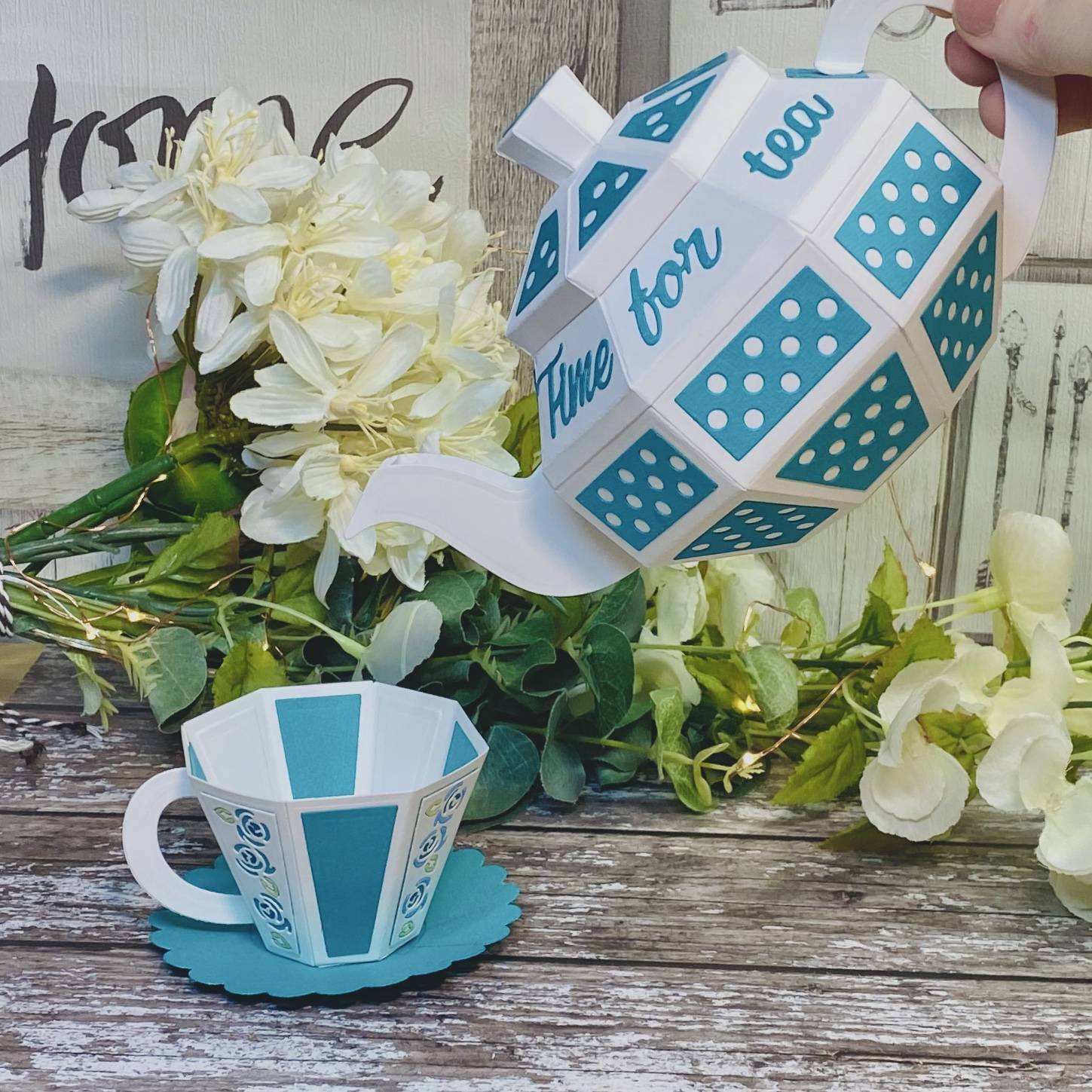 Time for Tea Die Set
Tangerine
Craft Perfect 240gsm Smooth Card - white
Craft Perfect 216gsm Card – Ocean, Cornflower, Navy, Pistachio
Nuvo Deluxe Adhesive
---
Take two of the largest die cuts, burnish all score lines and glue each side panel to the next. Once glue is dry, overlap the octagon and glue together.
Using the four die cuts shown, burnish all score lines and glue. Attach each one to the bottom of the base of your teapot, as shown.
Decorate BEFORE you add the handle and spout.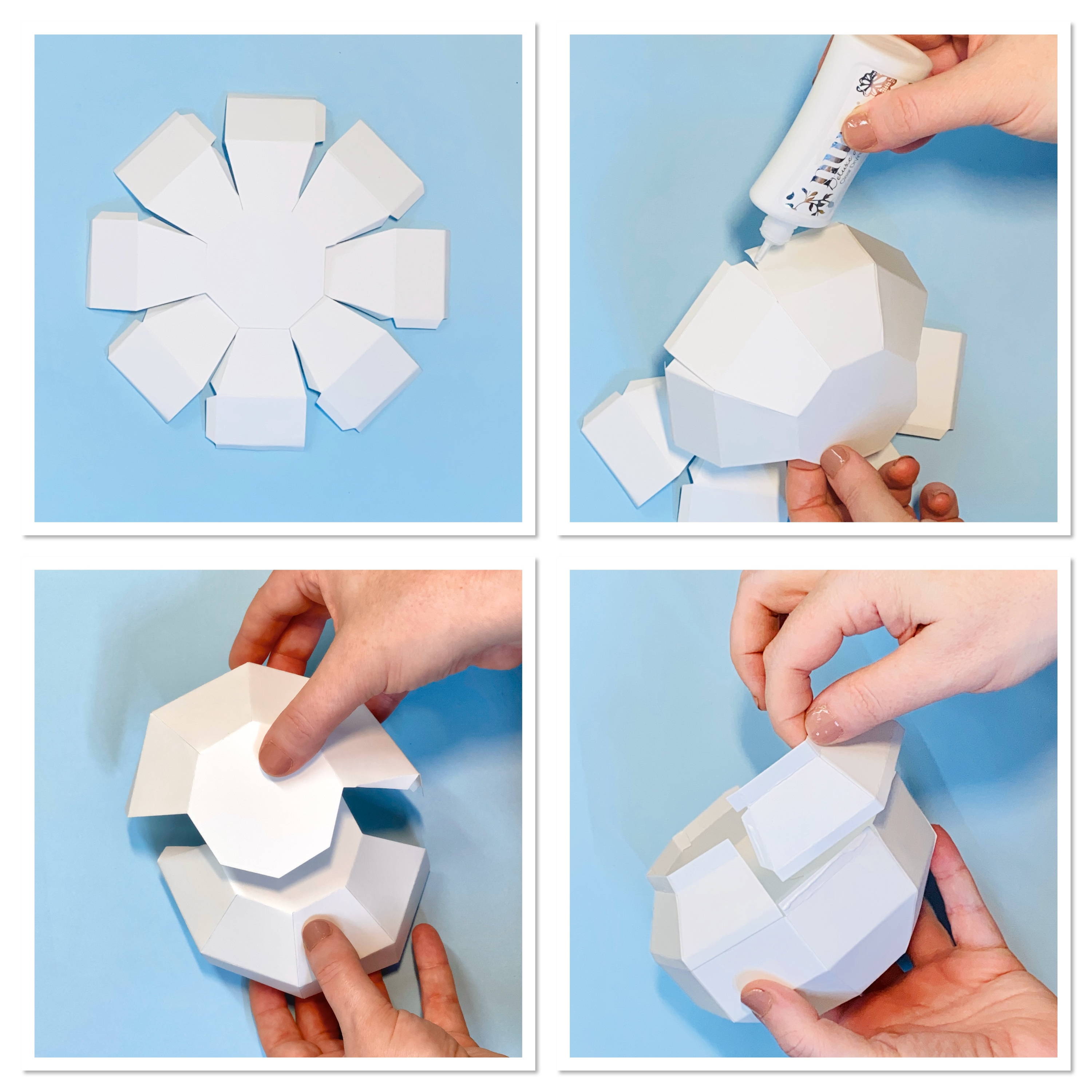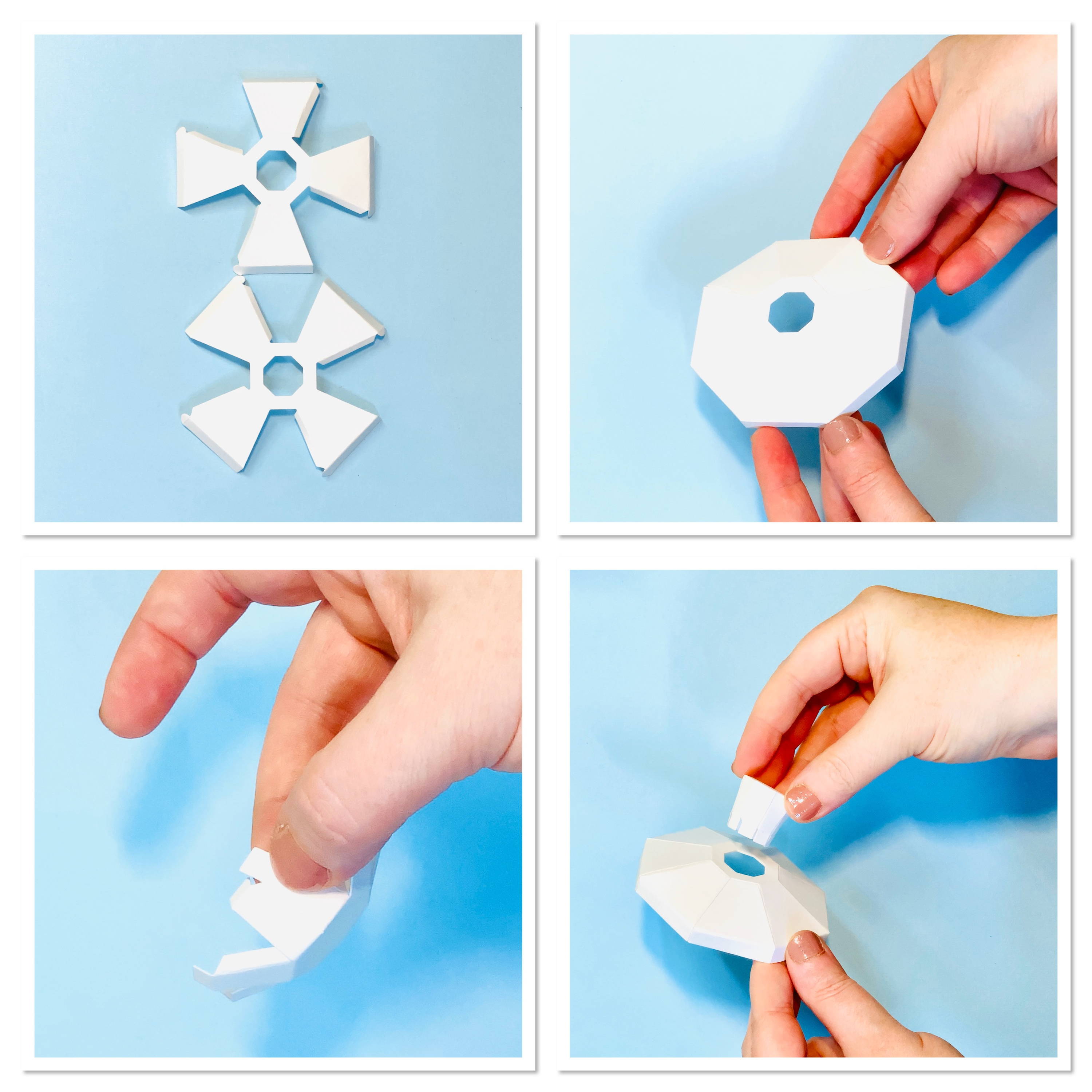 Take the two die cuts and burnish all score lines. Overlap the octagons and glue each panel to the next.
For the top of the lid, fold and glue all tabs as shown. Once dry, feed the base through the lid aperture, fold and glue onto the inside of the lid.
The handle and spout is easily attached once you've decorated your teapot. You'll need both die cuts for each plus two of the small stabilisers which attach on the inside of the spout. The handle is cut twice and glued onto the side of your teapot.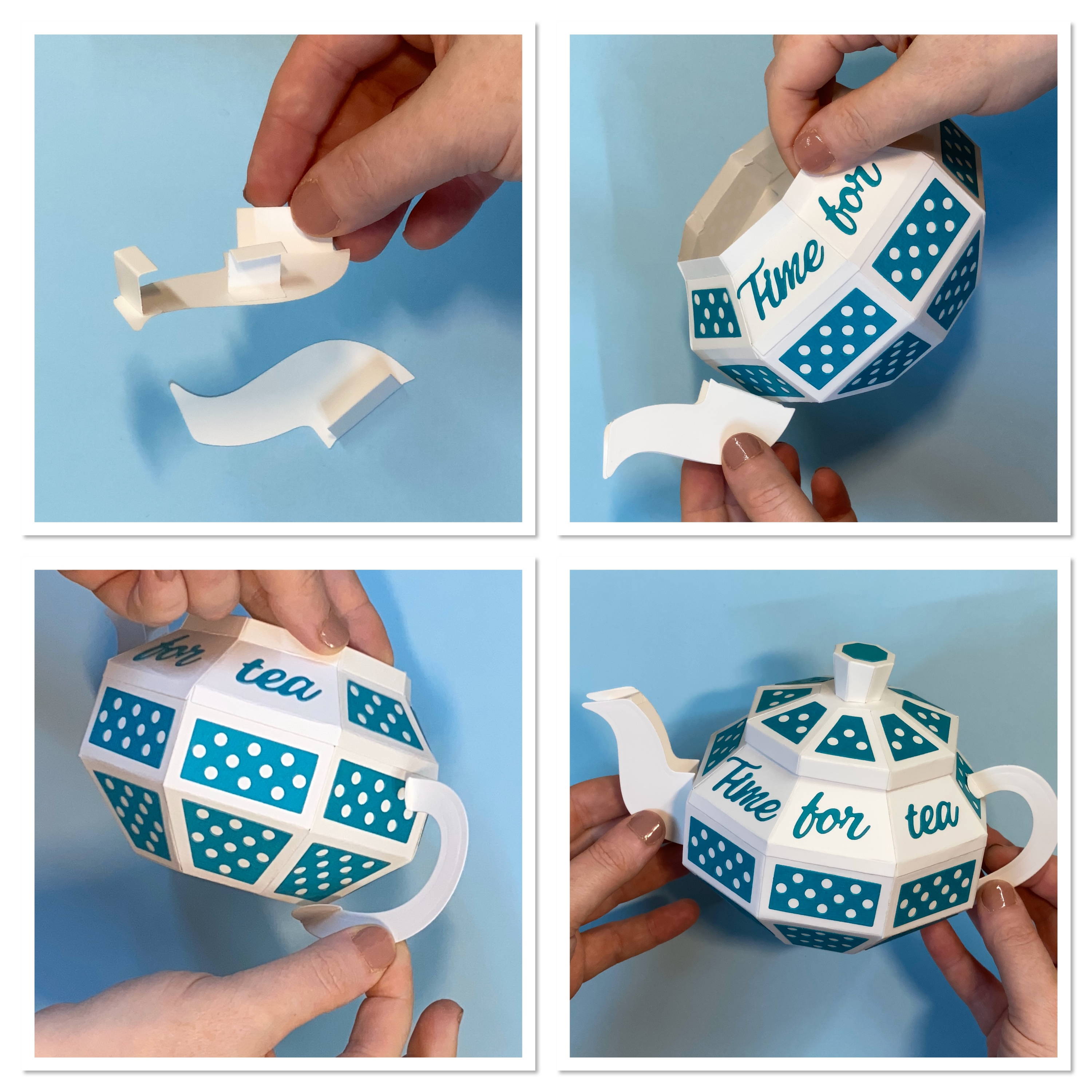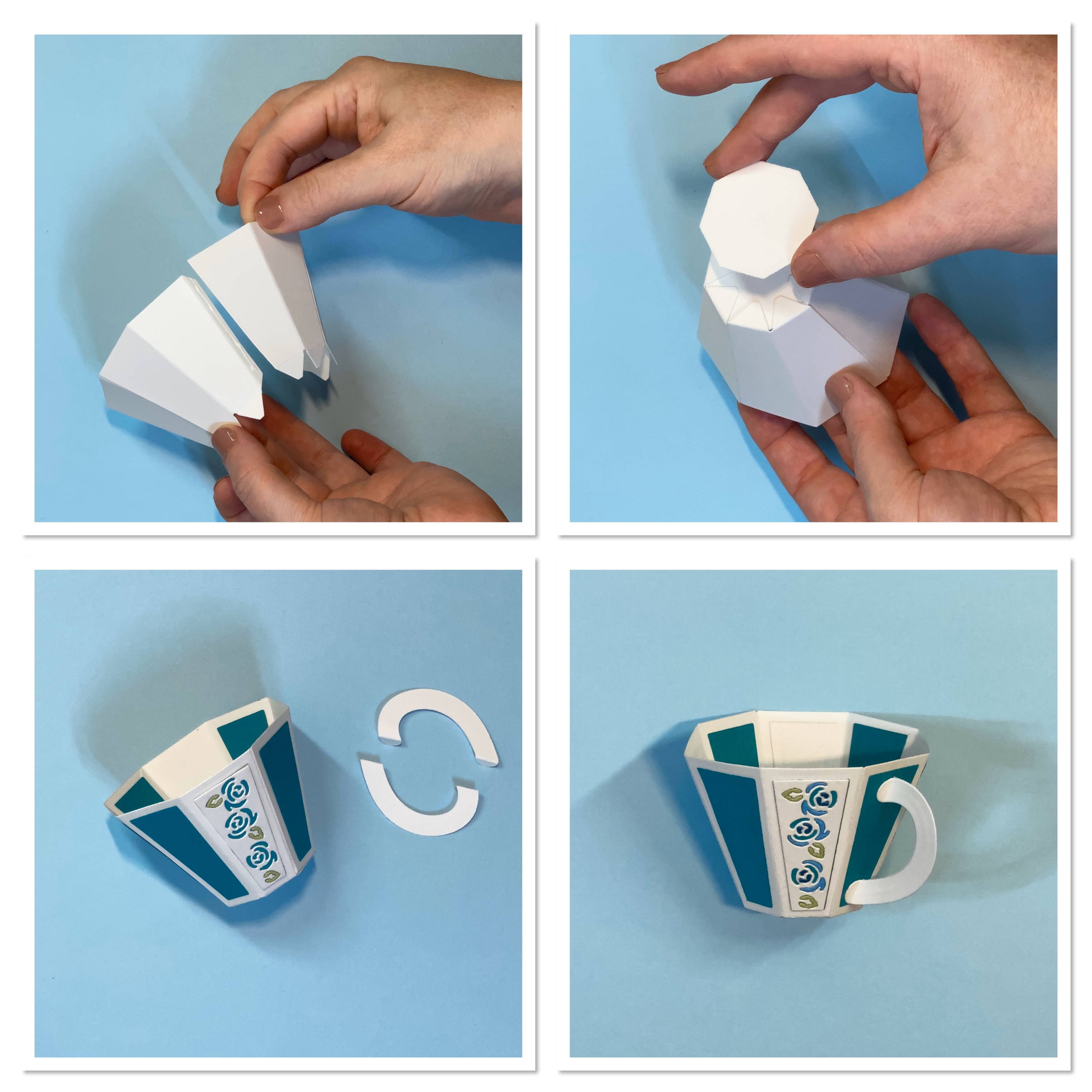 Burnish all score lines then glue together. Glue an octagon inside the teacup, and onto the base. Decorate BEFORE you add the handle.
Overlap the two pieces, as shown. Add glue to one tab on one half and to two tabs on the other half. The circular die cut is then attached to the base of the saucer.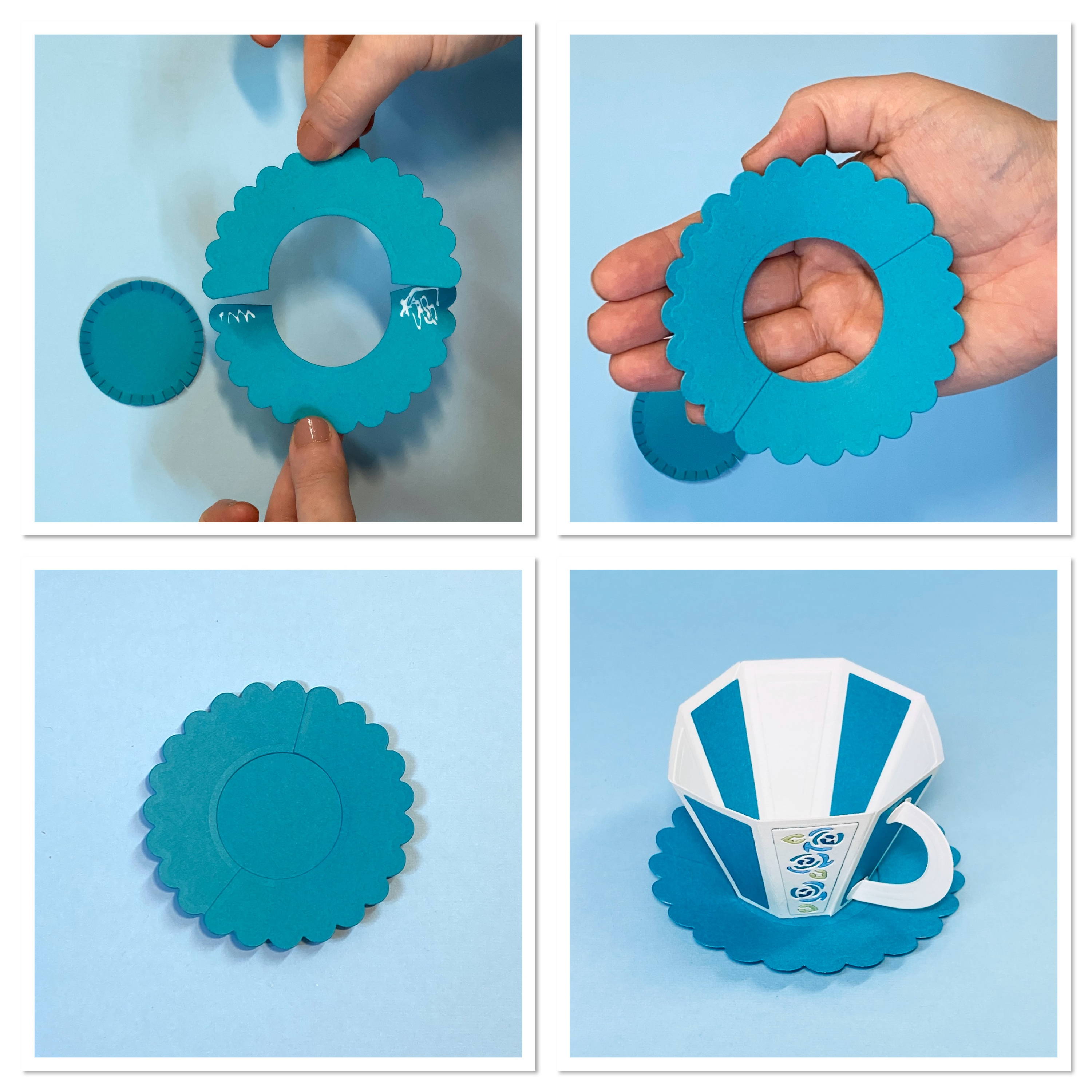 ---
My best advice is be patient and methodical when creating beautiful 3D projects and to have fun. If you have any questions, please leave me a comment and I'll make sure to answer them.
Have a great day and I can't wait to see what you make with this amazing 3D design.
All the very best.
Love,
Jen Kray
---