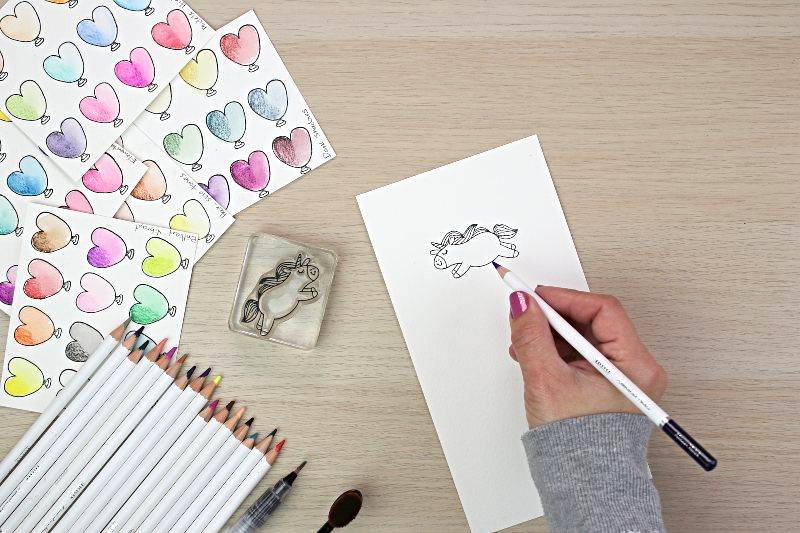 Hi everyone, This is Bibi Cameron and I'm glad to be in the Tonic Class Room today to talk about Nuvo Watercolour Pencils.
I have been working with and for Tonic for over 3 years and during this time I've had the chance to experiment with all the products in the Nuvo range almost on a daily basis.
The Nuvo Watercolour Pencils are not the exception!
Water-soluble.

Highly pigmented.

Translucent.

Blendable.

Semistaining.

Non Permanent.

Allows Control and details.

Fun to work with other colouring mediums.

5 different sets available.
Sets of 12 colours.
---
What are Nuvo Watercolour Pencils?
These are super versatile water-soluble translucent pigments in the shape of a pencil.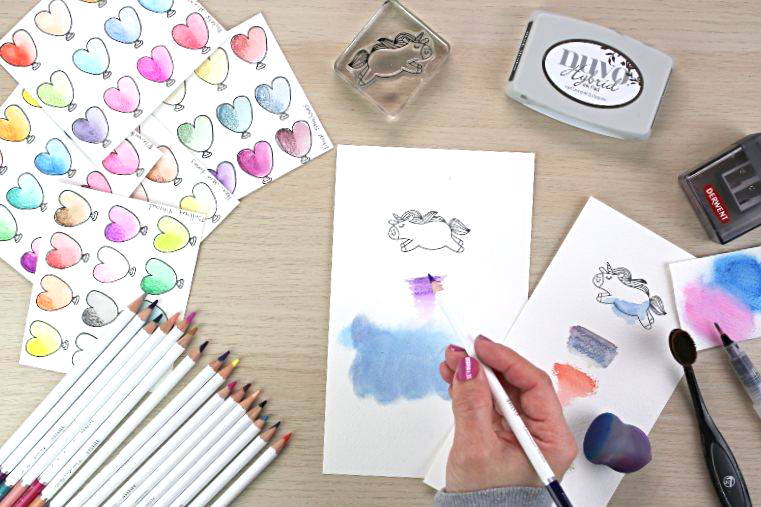 In spite of looking similar than any other pencils you might have, the main plus of Nuvo watercolour pencils is that they easily blend with water.
Apply them on dry or wet watercolour paper.

For more control when applying colours.

Achieve soft to vibrant compositions.
Use the sharp tip to add details to your artwork.
No need to repeatedly apply water after colouring.
You can blend pigments already applied on paper by simply adding water or you can blend the pigments before application by extracting the pigments from the pencil by implementing a couple of techniques I'll be sharing with you today.  
---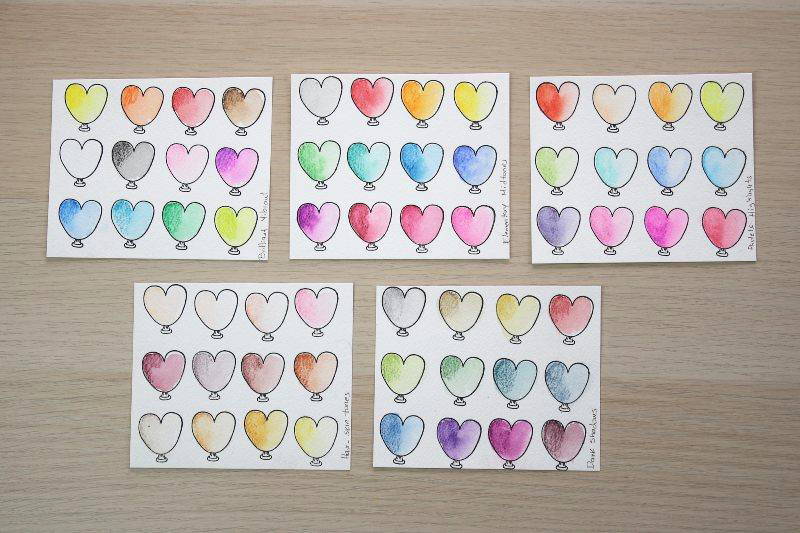 There are five different watercolour pencils sets available in the Nuvo range:
The pencils come in sets of 12 and are in metal tins that also allows you to keep them organised.
---
For the card samples below I mixed different watercolour pencils sets to give you an idea about the colour range.
These 2 cards have been 100% coloured in using watercolour pencils including the backgrounds.
Left card : Hair & Skin Tones - 521n + Brilliantly Vibrant - 520n + Dark Shadows - 524n
Right card: Hair & Skin Tones - 521n + Brilliantly Vibrant - 520n + Elementary Midtones.
Images from: Up in the Air stamp set by alliancekursy.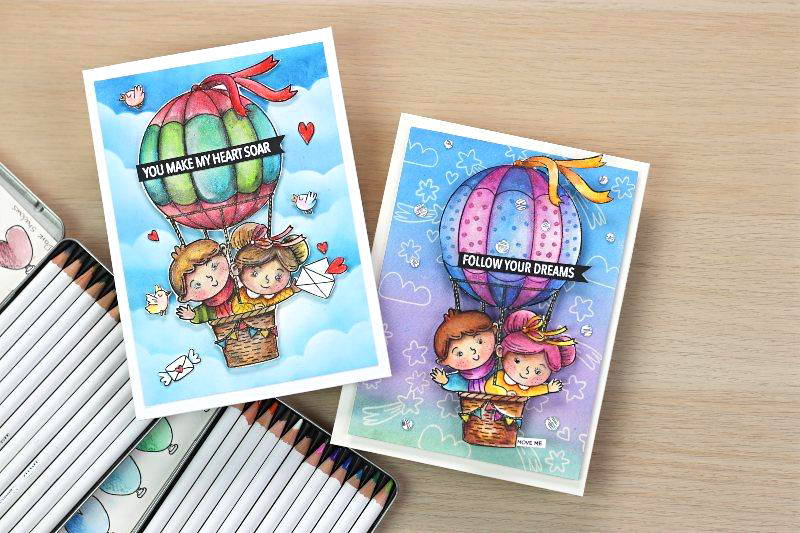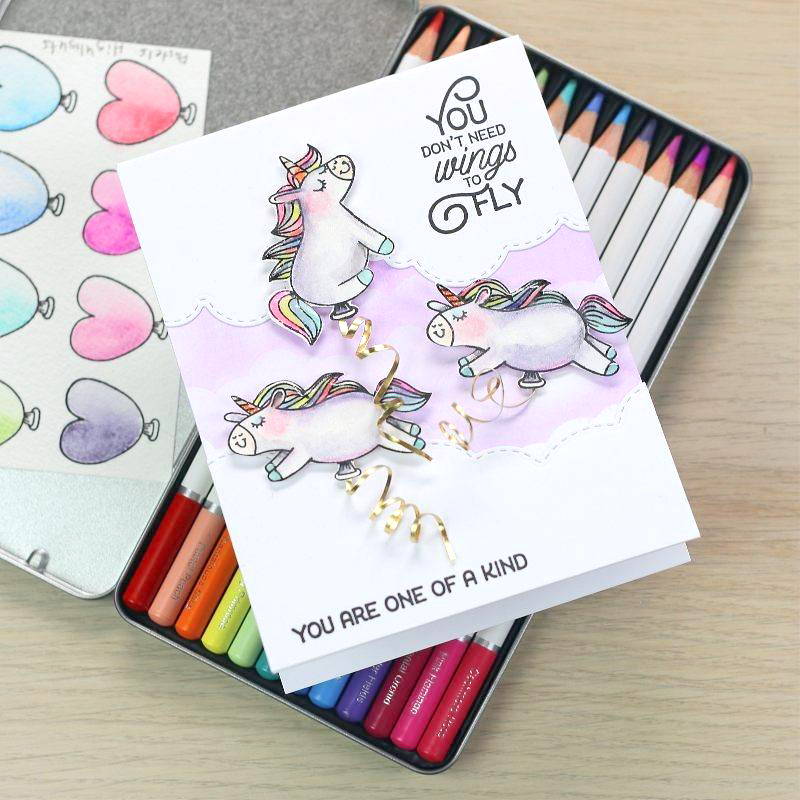 For this card I used Pastel Highlights - 522n
The background was made using "African Violet" from Brilliantly Vibrant - 520n
Images from: Unicorn Wishes Stamp Set By alliancekursy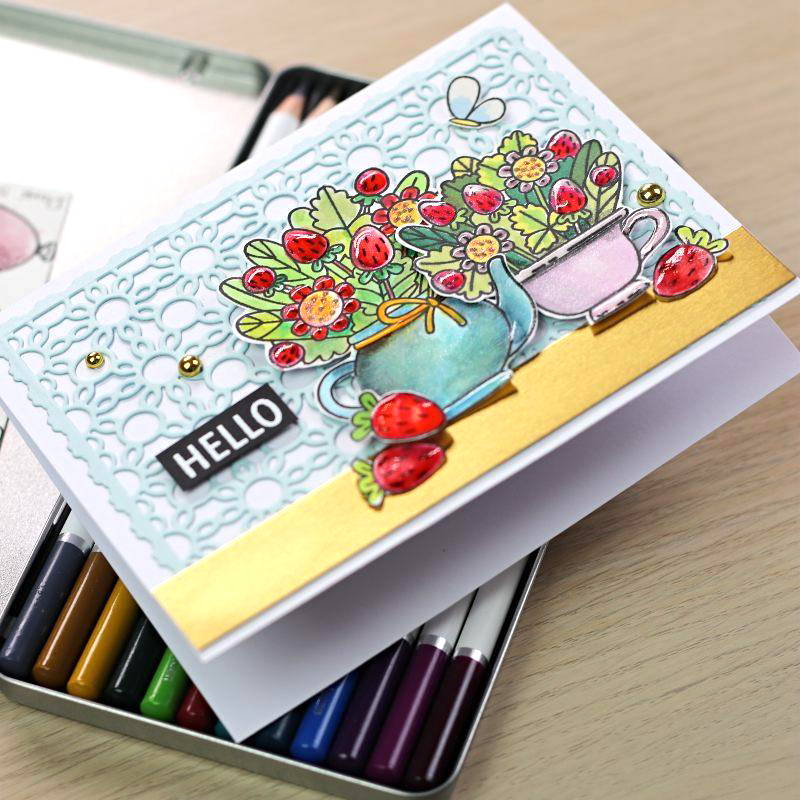 ---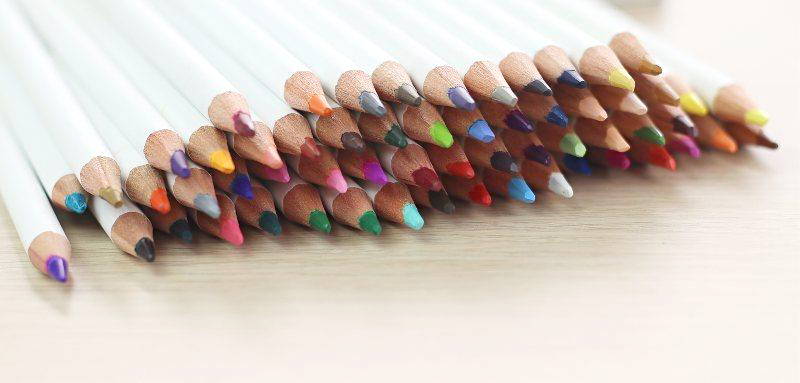 Nuvo watercolour pencils are affordable. However, for those who are just starting out and might have a limited budget, I would recommend getting primary colours.
I find myself using a lot Brilliantly Vibrant and Hair & Skin Tones sets.
Brilliantly Vibrant colour pallet includes primary and secondary colours together with white and black pencils.
You can create any colour by blending primary colours so this is in my opinion a very clever colour choice, considering how you use the colours you can achieve totally different looks.
Adventurous crafters can get the whole Nuvo watercolour pencils collection. 
There are 60 pencils in total.
Depending on what you want to do you can use a wide variety of papers
To get the best results from your pencils cold press watercolour paper is the best.

Avoid printer paper, smooth cardstock or extra textured paper to work with these pencils.
For Stencilled Backgrounds or Smooth Transitions
Any paper that allows ink blending.

Smooth bristol paper or any watercolour paper will work nicely.
---
To blend watercolour pencils pigments you might need :
Soft brushes.

Watercolour brushes.

Water brushes.

Makeup brushes.

Nuvo Sponges.
There are different Watercolour brushes types and sizes.
For card making, I mainly use Nuvo Water brushes and watercolour brushes round tip from 00 to 10.
Avoid using hard synthetic brushes that do not hold water and the colour application might be hard if not impossible.
We are all different and we do have different ways to do things. However here are some tips that might help you to have a better experience.
To work with watercolour pencils the key is to

use very little water always.

Apply gentle pressure when applying the pencils onto the paper.

Be gentle when using pencil sharpeners and use

a good, if possible, professional pencil sharpener.

Build up the colours by applying washes of colour and allowing to dry each wash before applying the next one.

Apply colours from light to dark. Although this might not always be the case, just bear in mind that it is easier to cover a light wash of colour than a dark one.

Avoid getting the pencil wood wet.
---
There is no rule regarding how to hold a pencil "correctly".
However, depending on the way you might be holding the pencils you can get tired hands, cause pencil breakages, flatten the paper and get patches of colours, so here are some tips for you:
The most important tip is to rest the side of your hand on the table for support, control, and precision.

Hold the pencils as you would hold a pen to write.
Apply from light to medium pressure on the pencil.
If your hand is very close to the tip :
It might give you tired hands.

This can indent, mark or flatten the paper.

This might not allow you to layer colours over.

This also causes pencils to break.
So the right place to grab a pencil is a little bit further up and away from the tip.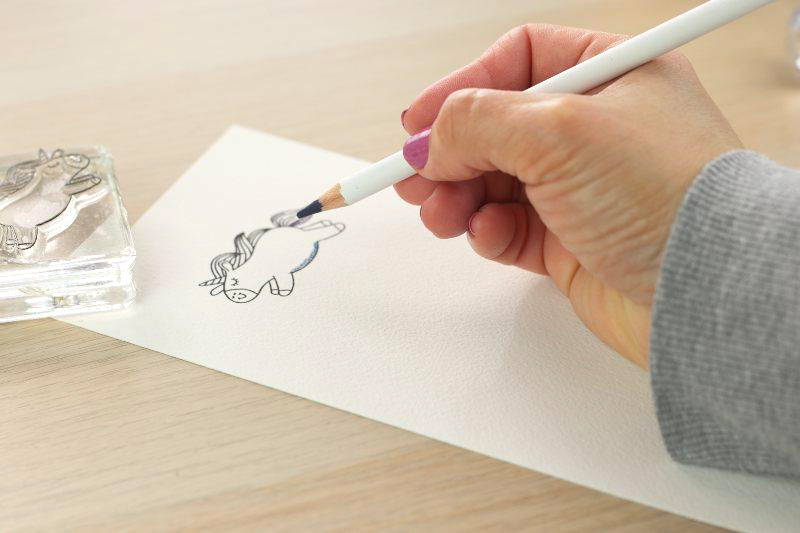 Getting creative with watercolour pencils is easier than you might think.
Apply the watercolour pencils on dry watercolour paper.

You can apply one or various shades of colour at a time.

If you laid down various colours at the same time you can blend them in one go.
To spread the colour you need a damp soft brush or a watercolour brush pen - without pressing the water brush barrel.
Allow colour washes to dry between application.
Build up the colour until you are happy with the result.
---
Two Incredible Watercolour Pencil Techniques for Backgrounds
I adapted techniques used by those who watercolour professionally to be used on card making, but anyone can use them to achieve super fun smooth and soft transitions.
These are easy, fun and require minimal skills and supplies.
Stencilled Watercolour Pencil Backgrounds
To apply this technique you will need:
Nuvo watercolour pencils.

Smooth Bristol Paper.

Pencil Sharpener.
Place the watercolour pencils on a non-porous surface such as the Tonic Glass Mat, a colour palette or a ceramic plate.

Apply only a few drops of water over the pencil shavings and allow them to melt for a few seconds.

Place your stencil over smooth bristol paper.

Use a Nuvo sponge to mash the wet pencil shaving already soaked.

Apply the inked sponge over the stencil.
Make sure the sponge is slightly damp

Make sure there are not chunks of pencil shaving on the sponges as they will create unwanted strokes.
---
Smooth Watercolour Pencils Transitions
To apply this technique you will need:
Nuvo watercolour pencils.

Any Watercolour Paper should work for this.

Make-Up brush

Pencil Sharpener.

Stencils.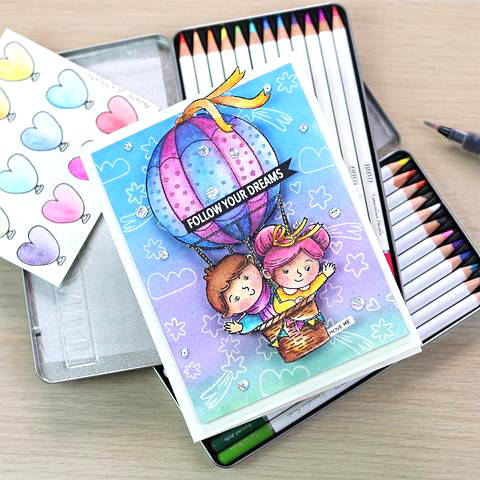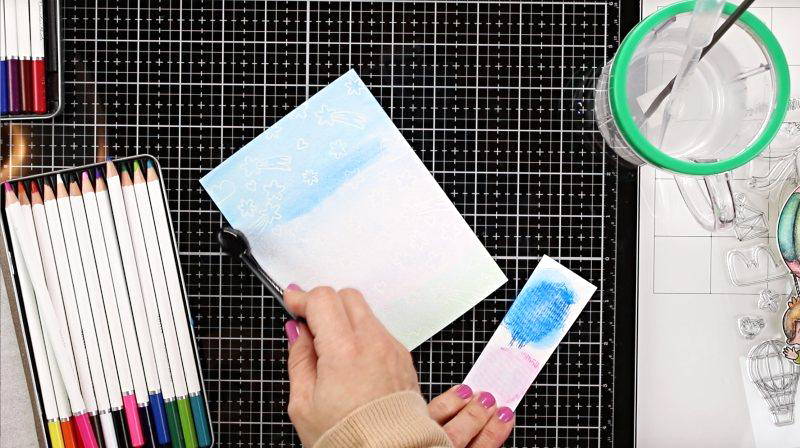 Chose the colour(s) you will use for the background.

Apply the pencil(s) on a scrap piece of watercolour paper.

Use a slightly damp makeup brush over the coloured area to lift the pigment and transfer it to the final piece.
Apply the brush first where you want the pigment to be more intense and work towards the opposite side, as the brush discharges the pigment the colour will get softer and softer.

You don't need to re-ink the brush but you can clean it to get a soft degradation of colour.

Clean the brush when changing colours.

Avoid at all cost excess of water.
---
That's all for today, I hope I could inspire you to get creative using Nuvo watercolour pencils and this is just to get you started.
There is a lot more you can do with these pencils so stay tuned to the Tonic Class Room.
Happy Crafting!
Bibi Cameron.
---
Watercolour Pencils Collection
Looking for more inspiration?